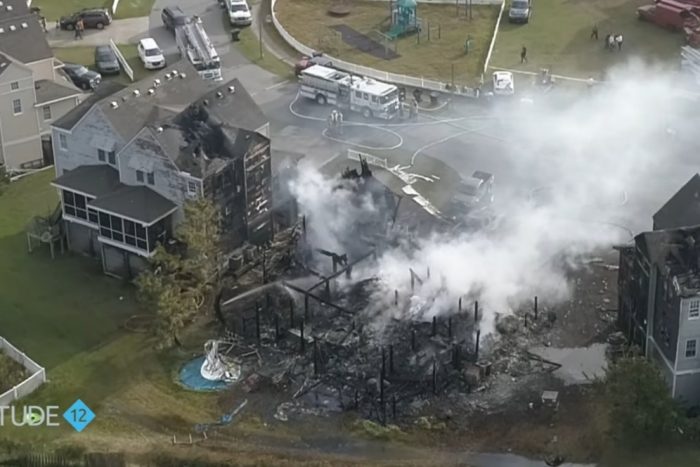 While the Outer Banks community has certainly rallied around the victims of Friday's fire in Buxton by supplying clothing, food, furnishings, and monetary donations, there is still one need that desperately needs to be addressed – housing.
Friday's fire occurred in a residential community on Cape Hatteras Lane that was originally constructed in 1958 as military housing for the Naval Facility Cape Hatteras. In 1984, the base and the on-site housing was transferred to the U.S. Coast Guard (USCG), and today, the complex provides homes for approximately 15 year-round families, which includes USCG personnel, as well as local residents.
Unfortunately, due to the damage that occurred with the October 23 fire, (as well as additional safety concerns that became evident after a series of subsequent inspections), many of the civilian and Coast Guard residents who lived in this housing complex have no place to call home.
Ashley Jackson, who currently works with Dare County Schools, and who was a social worker in Dare County, has been working behind the scenes to assist the Buxton fire victims in need, and she reports that the current housing situation is dire. Individuals and families are bunking together in temporary homes, with no idea of how long they can stay, and/or where they can go next.
"I don't think everyone realizes how many people have gotten displaced, and that they have no place to go," says Jackson. "We have a family that is moving to one house, but they have to leave by November 22. Other families are doubling up, and are staying together in the same home…"
"For the short term, that's OK, but this is not a long-term solution – we're just trying to get people affected by the fire a safe place to stay, so they can navigate the next steps."
Jackson estimates that at least six families are in immediate need of housing, which does not include individuals, (such as U.S. Coast Guard personnel), who are also year-round residents in the complex, and who are also being grouped together in temporary housing situations.
The number of people in need of housing may rise in the future, too, as safety inspections continue, and repairs are made to the damaged residences.
"This is affecting people whose homes have been damaged, as well as others who may be concerned about potential safety risks," says Jackson. "Being able to stay ahead of this housing need will be very helpful."
In this vein, a community-wide call is being made for temporary housing for these displaced families and individuals.
While there is no set timeframe requirement, Jackson hopes that community members, off-island homeowners, and anyone with a property on Hatteras Island can provide a temporary home for at least three months, as the victims of the Buxton fire piece their lives back together.
"We're hoping [the island community] might be able to offer their residences for these families, if they are empty and available in the off season," says Jackson. "Housing is a major issue right now, and there are multiple families who don't know where they can go."
Anyone who can provide temporary housing on Hatteras Island for the victims of the Buxton fire can contact Ashley Jackson and Leigh Brinkley, Dare County Social Services Supervisor, via email at buxtonhousing@gmail.com.
As noted, housing donors are not required to provide a home for a set amount of time, but Jackson hopes that residences can be rented for at least the next three months, (and potentially longer), which will also give the victims a temporary home for the holidays.
"It takes time to regroup after [a disaster] like this," says Jackson. "And maybe someone out there has a house that is not rented in the off season, or a house that they only use for summer vacations, that they can share for a little while…"
"We're really hoping the community can help, so that these families can try to get back to normal, while having a safe place to stay."