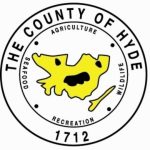 Hyde County Health Department wishes to update our residents on the state of COVID-19 in Hyde County. As of 10:00 a.m. today, March 27, 2020, Hyde County has NO confirmed cases of the virus, HOWEVER, this does not mean we are exempt from this illness.
Testing remains available, but the recommendation is that people who are mildly sick stay home to prevent the spread of illness. Mild symptoms are defined as fever and cough without any of the following: shortness of breath, difficulty breathing, chest discomfort, confusion, or blue lips. Should you develop these symptoms, call your healthcare provider or Emergency Services.
Do your part to protect yourself, your family and your community, by continuing to:
Avoid close contact with people who are sick.
Avoid touching your eyes, nose, and mouth.
Stay home when you are sick.
Cover your cough or sneeze with a tissue, then throw the tissue in the trash.
Clean and disinfect frequently touched objects and surfaces using a household cleaning spray or wipe known to be effective on COVID-19. A list of such cleaners is available on our website at www.hydehealth.com.
Wash your hands often with soap and water for at least 20 seconds, especially after going to the bathroom; before eating; and after blowing your nose, coughing, or sneezing. If soap and water are not readily available, use an alcohol-based hand sanitizer with at least 60% alcohol.
Practice social distancing (six feet between individuals); avoid handshakes, hugs and other close contact.
Get your information from reliable sources, such as:
NC Division of Health and Human Services, www.ncdhhs.gov, 1-866-462-3821 (NC Coronavirus Hotline)
●    Hyde County Health Department, www.hydehealth.com, 252-926-4399