Hyde County Sees Significant Rise in COVID-19 Cases as Vaccinations Begin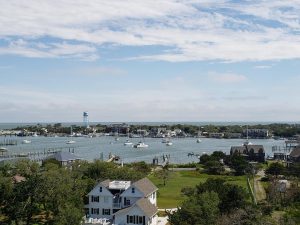 The Hyde County Health Department reported a significant rise in recent cases of COVID-19, but also noted that vaccinations have begun for health care workers within the county, per a recent update issued on December 29.
For Hyde County, (which includes Ocracoke Island), the active case count for positive COVID-19 cases as of Tuesday is 82. The number of COVID-19 cases to date is 348, which includes 231 patients who have recovered, and five deaths.
Per the recent figures, roughly 25% of the total cases in the county since the pandemic began are currently active.
The North Carolina Department of Health and Human Services, which provides COVID-19 case data by zip code, currently reports that 43 cases and no deaths have been reported to date on Ocracoke Island.
"This is a significant rise in cases, but today's count includes activity since December 23, 2020," states the update. "The Health Department did not report activity during the Christmas holiday, however, we did contact people who had positive lab results during this time, so they could isolate. Please be aware, you can expect a steady incline of cases, as community spread is rampant."
"The control of viral spread is dependent upon public action," the update continues. "The very best protection is to stay home, but if you must be out, socially distance from people, wear facial coverings, and wash your hands frequently. Get your vaccine as soon as possible, and continue to practice the 3 Ws. The prevention of people getting sick and dying is related to our actions. We must all, as a society, do our part."
The Moderna COVID-19 vaccine is at the Health Department, and vaccinations have already begun for health care workers within Hyde County. "We are following NCDHHS guidance on who to vaccinate and when. NCDHHS makes those decisions based on the CDC Advisory Committee on Immunization Practices (ACIP)."
The next phase of individuals to get vaccinated will be individuals greater than 75 years old, regardless of health conditions, and essential front-line workers. "Stay tuned, as you will continue to get updates about when you can receive your vaccination."
Hyde County Health Department continues to test those who have been exposed to the virus, or who develop symptoms. An appointment is required, but the Health Department can be reached at 252-926-4399 on Monday through Friday between the hours of 8:00 a.m. and 5:00 p.m.
For 24/7 on-call services, dial 1-866-462-3821, the Coronavirus Hotline.