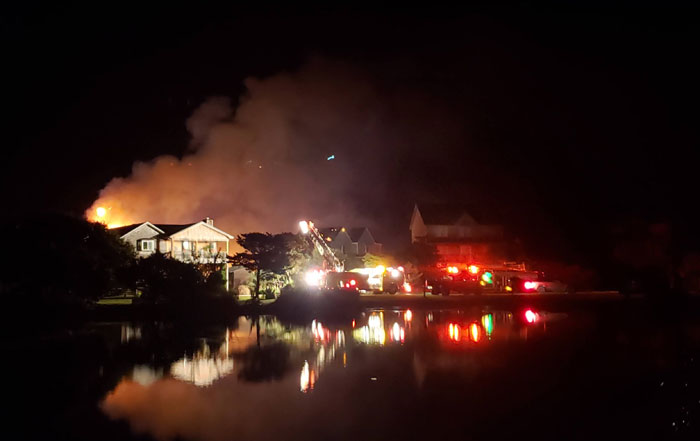 9:30 a.m. UPDATE: 
Four individuals remain unaccounted for after a large structure fire broke out early this morning at 46110 Cape Hatteras Lane in Buxton.
Volunteer fire departments from Buxton, Hatteras and Frisco responded shortly after 4 a.m. when a caller reported that flames were visible at the structure. Dare County EMS was also dispatched to the scene and transported two individuals to the Outer Banks Hospital in Nags Head for care.
A second alarm went out shortly after, and additional units responded to the scene. Fire crews remain actively engaged with the response as of 9:30 a.m. on Frday.
The Dare County Fire Marshal will be investigating the cause of the fire. Updates will be provided as findings are reached.
***
A large fire was reported in Buxton at approximately 4:00 a.m. on Friday morning, affecting multiple properties on Cape Hatteras Lane near the end of Old Lighthouse Road, per multiple reports.
Per a witness in the area, several houses were burning fiercely as of 6:00 a.m. Residents in the area state that they were awakened by an explosion on early on Friday morning, followed by the sound of pops, before the fire progressed quickly.
Volunteer firefighter crews from across Hatteras Island were working to put out the fire as of 7:00 a.m. It is not yet confirmed if anyone was in the homes, or if there have been any injuries.
The Island Free Press will post additional details as soon as they are available.