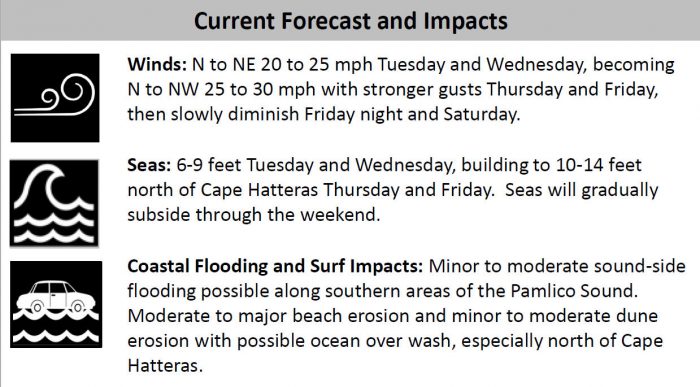 An area of low pressure that is expected to form off the coast on Tuesday may bring high winds, minor to moderate soundside flooding, beach erosion, and potential ocean overwash this week, per a Monday afternoon update from the National Weather Service Newport / Morehead City office.
The coastal low pressure system will form off the Southeast coast on Tuesday, then move off the Mid-Atlantic coast on Wednesday where it is forecast to stall through Saturday.  This will bring a prolonged period of strong north winds and large surf along the coast, with N to NE winds of 20 to 25 mph forecast for Tuesday and Wednesday, and N to NW winds of 25 to 30 mph with stronger gusts forecast for Thursday and Friday. Winds will slowly diminish Friday night and Saturday.
6-9 ft. seas are also forecast for Tuesday and Wednesday, building to 10-14 ft. north of Cape Hatteras on Thursday and Friday. Seas will gradually subside through the weekend.
Minor to moderate soundside flooding is also possible along the southern areas of the Pamlico Sound.
Moderate to major beach erosion and minor to moderate dune erosion with possible ocean over wash, especially north of Cape Hatteras, is also a concern. Residents and visitors are advised to look out for standing water and sand on N.C. Highway 12 throughout the week. A high risk of rip currents will likely continue until the weekend as well.
There remains significant uncertainty in the details with this system, so impacts at specific locations remain relatively unknown, especially as it pertains to coastal flooding impacts. The National Hurricane Center is also highlighting this system in their Tropical Weather Outlook, and it could attain subtropical characteristics later in the week.
For more information on the local forecast, visit www.weather.gov/mhx for weather information, or the National Weather Service office in Newport / Morehead City's Facebook page at https://www.facebook.com/NWSMoreheadCity/.