Minor soundside flooding was reported in multiple areas of Hatteras Island on Monday morning, including Frisco, the Hatteras Colony area of Avon, and Hatteras village.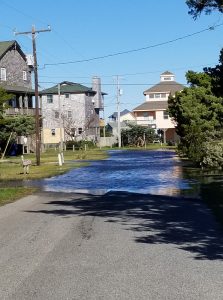 N.C. Highway 12 remained passable throughout Hatteras and Ocracoke islands as of 10:00 a.m. on Monday, however, there may be standing saltwater in these locales, as well as sand on multiple portions of the roadway. Travelers are advised to drive carefully and slow down, as saltwater can heavily damage vehicles.
The North Carolina ferry system stated on Monday morning that Hatteras-Ocracoke ferry operations have been temporarily suspended due to high winds, and the Pamlico Sound routes between Ocracoke and Swan Quarter / Cedar Island have also canceled their Monday morning runs due to the weather.
A Coastal Flood Advisory remains in effect until 3 p.m. on Monday.
With a strong high-pressure system building over the region today, sunny skies are expected, but temperatures will be below normal with highs in the 50s. Winds will start to diminish by Monday afternoon, however, cold temperatures will linger, and frost and some freezing temperatures are possible inland tonight.
For more information on the local forecast, visit www.weather.gov/mhx for weather information, or the National Weather Service office in Newport / Morehead City's Facebook page at https://www.facebook.com/NWSMoreheadCity/.