"Miss Katie" dredge nears completion, and prepares for her Outer Banks arrival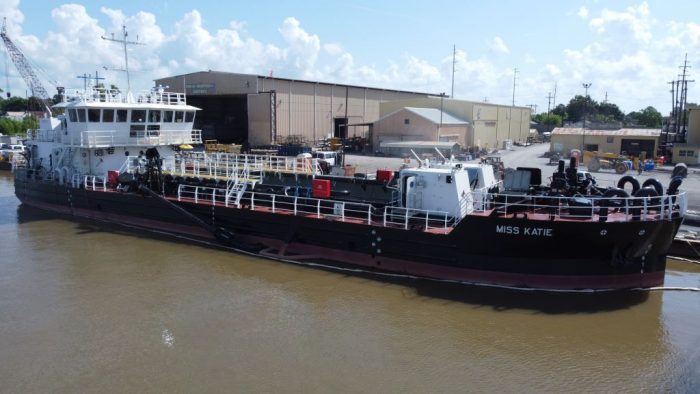 The "Miss Katie" dredge is nearing completion, with sea trials scheduled to begin on July 18, followed by a long journey from a Louisiana construction site to her new home on the Outer Banks.
A project that has been in the works since 2016, the Miss Katie dredge will be able to operate in both Oregon and Hatteras Inlets up to 12 hours a day, and will be a county-managed resource to continually keep both inlets open.
"I cannot explain how excited we all are to have this come to fruition," said Dare County Commissioner Steve House, who along with Commissioner Jim Tobin, has been working on the Miss Katie dredge project since the beginning. "It has been a long process, and way past due for what we need here… Mainly for our commercial fishermen and our charter boats, but also for our pleasure boats going up and down the coast."
The project for securing a county-managed dredge has been a high priority for Commissioner House, as well as the other Dare County Commissioners. Both residents and visitors are reliant upon the Outer Banks' waterways, and it's crucial that they're properly dredged to eliminate the shoaling that takes place just under the surface.
To ensure that vessels are able to safely navigate these waterways, the U.S. Army Corps of Engineers has the responsibility of dredging the federally authorized channels. But a lack of time and resources has significantly held up many dredging projects in the past, and has previously allowed shoaling to take over and seal off some of these waterways to the boats that require deeper water to navigate.
"The Army Corps of Engineers has four dredges, and there are only three that can operate in Hatteras or Oregon Inlets, and one is in dry dock for a remodel," explained House. "So there are 2-3 dredges that cover [all waterways], from Texas to Maine."
With this longstanding issue in mind, the Dare County Board of Commissioners unanimously approved a contract in May of 2019 for the construction and operation of a new shallow-draft hopper dredge for use in the various channels and inlets throughout Dare County.
Funding for the project came from a public-private partnership with the state of North Carolina, in which the legislature allocated $15 million from the Shallow Draft Navigation Channel Dredging and Aquatic Weed Fund for the purchase of the dredge.
The vessel is currently stationed in Louisiana, and is in the final stages of being built. EJE Dredging Service of Greenville, N.C., (the private partner for the Miss Katie), is overseeing the construction, and will also be responsible for conducting dredging operations once the vessel is complete.
"On July 18, they will start sea trials," said Commissioner House, noting that the Louisiana-based sea trials are expected to last a few days. "After that, it will start making its way up here."
"It will take close to two weeks for it to steam its way from Louisiana to the Outer Banks," added House. "She's not a speedboat, by any means."
Miss Katie will be docked for the long haul at the Wanchese Industrial Seafood Park, and once the vessel arrives in Dare County, additional trials will be conducted in Oregon Inlet to ensure that the dredging operations work properly, and to acquire certification for the dredging projects to come.
Assuming the final steps go according to plan, Miss Katie could be dredging Oregon Inlet by the middle of August.
Once Miss Katie is up and running, the dredging schedule will be managed by Dare County's Oregon Inlet Task Force.
"She is dedicated [to] Hatteras Inlet and Oregon Inlet for the next 10 years," said House, "and our main goal is to keep these two inlets open."
While dredging can begin right away in Oregon Inlet, dredging is currently permitted in Hatteras Inlet from October 1 through March 31, although permission to dredge outside this window can be requested and approved if needed, (and has been in the past).
Plans are also in the work to hopefully expand this March-October dredging window via a realignment of the Hatteras Ferry Channel. Much of mariners' frustration in recent years has been directed at the fragmented regulatory status of Hatteras Inlet's passages – some federal, some state, some neither, some both. Realignment of the federal channel would help address these gaps, and the Corps is in the process of adding language that will expand the areas included in the existing federal authorization. The approval of the realignment will also potentially allow dredging in Hatteras Inlet's channels year-round, (unless revisions are made during the ongoing review process.)
Regardless of when the dredging work officially begins, the arrival of Miss Katie is a milestone that has been years in the making, and is a novel endeavor that is already garnering attention and inspiring similar initiatives all along the East Coast.
"This is the first project of its kind [in the country], and we've been contacted by different agencies in Virginia, Maryland, and Georgia, looking to see how this is going to work in order to implement [similar projects] in their areas as well," said House. "This is a total game-changer, for sure."