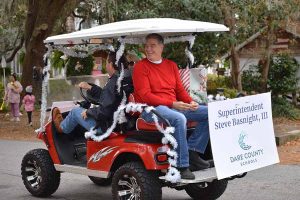 Supt. Basnight on the issues facing our schools and his unlikely return to Dare County
The November 2 selection of Steve Basnight as Dare County's new superintendent of schools marked a homecoming for an educator who had spent nearly three decades in the Dare Schools system before moving on a decade ago to continue his career in Currituck and Hyde counties.
The decision to apply for the job, which Basnight acknowledged was a very difficult one, came after a series of dramatic, and in some cases, tragic events. Two days before he retired as Hyde County Schools Superintendent on March 31, Basnight learned that his mother Carolyn had suffered a very serious stroke. Less than a month later, while driving with his father, Steven Jr.—a former Dare County Schools Superintendent himself—to visit his mother, an accident claimed his dad's life and put Steve in the hospital with serious injuries.
Basnight had signed a contract to do educational consulting with a Wilmington NC-based company and had concluded that the educator "chapter [of his career] was pretty much done." Then Dare Schools Superintendent John Farrelly made the surprise announcement in May that he was leaving that post.
Basnight called the suddenly changing Dare superintendent situation "mind-boggling. I never thought there would be an opportunity" for him to achieve his longtime goal of heading up the local school system.
He recalled that after the Farrelly announcement, "people here started coming up to me in the grocery store, walking down the street [saying] 'Listen, I hope you're gonna put your hat in the ring.'" He said the decision to apply for the superintendent job at a point when he already considered himself retired required "a lot of prayer, really a lot of prayer."
As he recounts, Basnight completed the job application and paperwork "right at the deadline." The rest is history. "I was completely at peace, no matter which way it went," he said of his selection. "I would not have applied for or considered any other superintendent's position but Dare."
In a wide-ranging Feb. 20 interview with the Voice, Basnight discussed a number of Dare Schools issues — ranging from student performance and virtual learning to empowered parents and staff recruitment.
Main priorities for the new superintendent
Asked if he had identified the main priorities of his new administration, Basnight responded that "The true answer is, no I haven't. Dare County Schools has been a beacon in academic performance for years." In terms of factors like student engagement, teaching skills, resources and community support, "all of the things that say we should be the top are here. So why aren't we?"
"I don't think Dare County Schools [are] where we should be," he added, acknowledging that he hasn't yet figured why that is the case.
While noting that he will soon have some student performance grades and mid-year elementary school checkups to evaluate, Basnight stated that, "I'm trying to get in the classrooms and watch what's going on and learn what they're doing from what they're showing me…I don't see this position as a superintendent like an ivory tower. I see it as a resource for a teacher in the classroom. My goal is to find out where the struggles are, find out where the challenges are, then find resources with our staff here to directly provide for that principal or that teacher in the classroom so that they can achieve what I know we need."