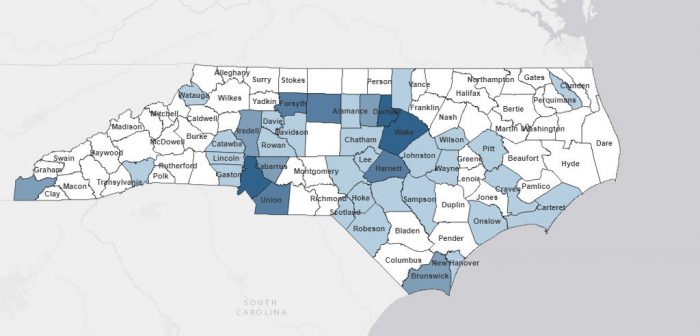 The statewide COVID-19 case count rose to 255 in 39 counties as of Sunday morning, however, there were still no cases reported on the Outer Banks in Dare or Currituck counties. Per the N.C. Department of Health and Human Services, 6,438 tests have been completed across the state as of Sunday morning.
A COVID-19 case reported in Hyde County on Saturday was determined to be from an individual who was isolating in a different county, and who had more than one address. The individual provided a Hyde County address when tested, causing Hyde to be the county of ownership.
The total number of cases on Saturday morning in North Carolina was 184. As of Sunday, no deaths have been reported from COVID-19 in North Carolina.
Per a Sunday update from the Joint Information Center in Dare County, medical providers throughout the county continue to test patients who meet the criteria for testing, which includes fever of 100.4 or greater, cough, and symptoms of respiratory illness.
"When an individual tests positive for COVID-19 in our county, that information will be shared as soon as possible," stated the Dare County Sunday update.
"It cannot be stressed enough how important it is for each of us to do our part by following the social distancing guidance and other recommendations from the CDC and NC DHHS for the protection of public health. Every single person in this county plays a role in helping reduce the transmission of the virus. Practicing social distancing and limiting direct contact (other than family members) are critical steps we all should be taking. The reason social distancing and direct contact are such important mitigation strategies is because the COVID-19 virus is highly contagious and can linger on surfaces. A study released by the National Institutes of Health reveals that the virus stays on cardboard for up to 24 hours and up to two to three days on plastic and stainless steel…"
"To protect the public health and safety for our community, restrictions remain in place prohibiting visitors and non-resident property owners from entering Dare County. This decision was made by the Dare County Control Group which includes the Chairman of the Dare County Board of Commissioners, the mayors of the six municipalities, the Dare County Sheriff and the Superintendent of the National Park Service Outer Banks Group. For updated information regarding entry guidelines that are in place, visit darenc.com/entry."
Additional Updates on Dare County Services for Sunday:
Dare County
Residents are encouraged to rely on credible sources for updated information regarding COVID-19. Visit the CDC website www.cdc.gov/coronavirus or NCDHHS at www.ncdhhs.gov/cornoavirus. For information specific to Dare County, visit www.darenc.com/covid19.
The Dare County COVID-19 Call Center is open daily from 8:30 a.m. to 5:00 p.m. to help address your questions on COVID-19 and can be reached at 252.475.5008.
For updated information regarding Dare County services, visit www.darenc.com/covidservices.
The Outer Banks Hospital
Due to the spread of COVID-19 in eastern North Carolina, The Outer Banks Hospital is now prohibiting all visitors. To accommodate special circumstances on a case-by-case basis, the following areas will allow (after an on-site screening) ONE healthy adult visitor:
Maternity and Postpartum Unit
Clinics located inside the hospital
End of life patients
Discharge pickup
Emergency departments – pediatric patients and patients requiring assistance only
Other situations on a case-by-case basis
Our Outer Banks Medical Group clinics are allowing one healthy adult visitor per patient.
Beginning Monday, March 23, The Outer Banks Hospital is rescheduling outpatient procedures and visits that can wait a few weeks. Examples include mammogram screenings, bone dexa scans, and some rehabilitative therapy. If you have a scheduled appointment over the next two weeks for one of these appointments that can be delayed, you will receive a call to reschedule your appointment.
The outpatient walk-in lab is open; however, we strongly encourage patients to delay coming in if their test can wait a few weeks. A good example of a lab test that can wait is an annual wellness lab draw.
The Outer Banks Medical Group is gearing up to offer virtual visits (phone or computer) for established patients in order to continue care and limit potential exposure to the virus. If you are an established patient of an Outer Banks Medical Group clinic and you need to be seen, please call the office to see what options are available to you and your unique situation. If you already have an appointment scheduled, our staff will be reaching out to you.
There are no changes to our trash and recycling collection schedules.
To minimize potential spread of COVID-19, consistent with federal, state, and local advisories, visitor centers at Cape Hatteras National Seashore, Fort Raleigh National Historic Site, and Wright Brothers National Memorial are temporarily closed.
Cape Hatteras National Seashore (Seashore)
The Bodie Island, Hatteras Island, and Ocracoke Island visitor centers are closed.
Off-road vehicle (ORV) permits can be purchased online at www.recreation.gov. The status of each ORV ramp and beach route can be found at http://go.nps.gov/beachaccess.
The Oregon Inlet Campground is closed.
The grounds of the Bodie Island, Cape Hatteras, and Ocracoke Light Stations are open.
Beachgoers should use caution in the ocean as no lifeguards are on duty at this time of year.