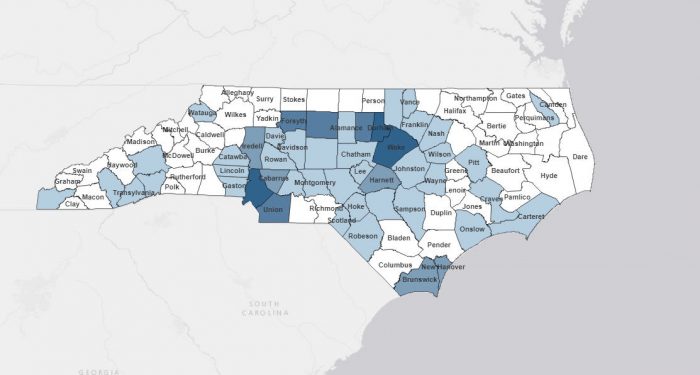 The statewide COVID-19 case count rose to 398 as of early Tuesday morning, however, there were still no cases reported on the Outer Banks. When there is a positive test result, this information will be shared as soon as possible, according to Dare County's Joint Information Center.
Per the N.C. Department of Health and Human Services, 8,502 tests have been completed across the state as of Tuesday morning.
As of Tuesday, no deaths have been reported from COVID-19 in North Carolina.
Per a Monday update from the Joint Information Center in Dare County, medical providers throughout the county continue to test patients who meet the criteria for testing, which includes fever of 100.4 or greater, cough, and symptoms of respiratory illness.
"Currently, all critical services including law enforcement, Emergency Medical Services, and healthcare, including the Outer Banks Hospital, are operational and able to meet the needs of our residents," stated the county's update. "Essential supplies, including food and water, continue to be delivered to local stores. Residents should continue to purchase food, supplies, and medications as they need them but remember if you do go out, stay at least six feet from others at all times."
"It is understandable that the outbreak of COVID-19 may be stressful," the update continues. "Fear and anxiety about a disease can be overwhelming and cause strong emotions in adults and children. Coping with stress will make you, the people you care about, and our community stronger. We have recently released two videos that address physical and mental well being. These videos can be found on Dare County's YouTube Channel.  If you or your child/teen need help with the stress or anxiety you are facing, there are resources in our county to assist. Please call PORT Health at 252.441.2324 or Trillium Health Resources at 877.685.2415."
The Dare County COVID-19 Call Center is open daily from 8:30 a.m. to 5:00 p.m. to help address the public's questions on COVID-19, and can be reached at 252.475.5008.
For updated information regarding Dare County services, visit www.darenc.com/covidservices.
The Island Free Press will continue to post updates as soon as they are available.