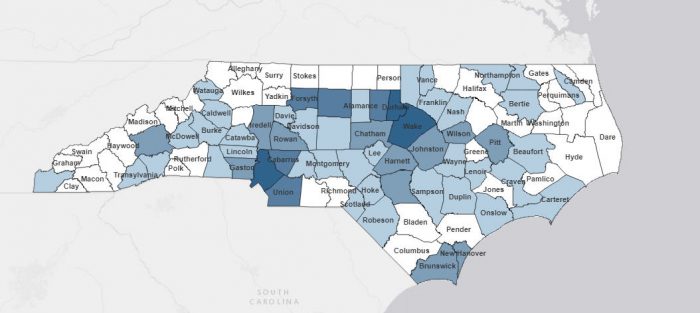 The statewide COVID-19 case count reached 636 as of early Thursday morning, with 12,910 tests completed across the state and counting.
Two COVID-19-related deaths were reported in North Carolina on Wednesday per an update from Governor Roy Cooper.
A person from Cabarrus County died on March 24 from complications associated with the virus. The patient was in their late seventies, and had several underlying medical conditions.
A second person in their sixties from Virginia, who was traveling through North Carolina, also died from COVID-19 complications.
Dare County's Division of Public Health also announced the first positive test result for COVID-19 in Dare County on Wednesday. Though the test was conducted within the county, a Dare County address was not used when the individual was tested, and the case will not show up as a Dare County case with the North Carolina Department of Health and Human Services.
The individual has been self-isolating since originally being tested in Dare County and is reported to be doing well. No additional details will be released about the individual to protect patient privacy. Dare County Department of Health & Human Services staff is actively investigating this individual's activity, and anyone who is determined to have been in direct contact with the individual will be notified by public health staff.
Dare County remains under a State of Emergency. Restrictions remain in place prohibiting access to Dare County for visitors and non-resident property owners. The Dare County Control Group continues to meet daily to receive updates and to make any decisions necessary to protect the public health and safety of our citizens.
The Dare County COVID-19 Call Center is open daily from 8:30 a.m. to 5:00 p.m. to help address the public's questions on COVID-19, and can be reached at 252.475.5008.
For updated information regarding Dare County services, visit www.darenc.com/covidservices.
The Island Free Press will continue to post updates as soon as they are available.