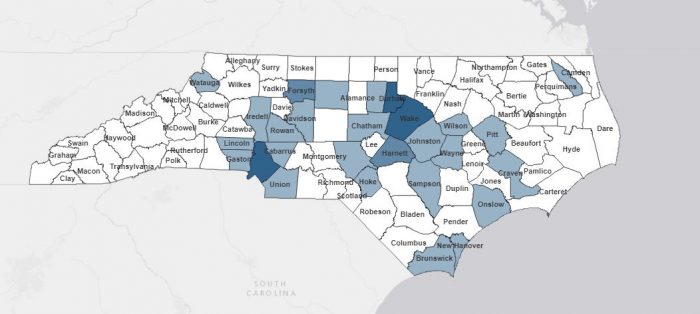 As of 10 a.m. on Friday morning, the state of North Carolina had a total of 137 cases of the novel Coronavirus, however, there were still no cases of COVID-19 reported on the Outer Banks in Dare, Currituck or Hyde counties
A new case of Coronavirus was reported on Thursday in Pasquotank County, (Elizabeth City region), as well as in Pitt County, (Greenville region.) The majority of current cases are in the central part of the state and in populated areas, and specifically Durham County with 32 cases and Mecklenburg County with 28 cases.
The total number of cases on Thursday morning in North Carolina was 97. As of Friday morning, no deaths have been reported from COVID-19 in North Carolina.
The Dare County Control Group released an update for Thursday and stated that they will continue to meet daily to receive and evaluate updated information and global research regarding this novel virus to make decisions in the best interest of the health and safety of the community.
At this time, there is no way to provide a timeline or expected date for lifting the restriction that is in place for visitors. When conditions warrant, revisions to the restrictions on travel to Dare County will be implemented.  
Individuals who are traveling to and from Dare County for medical appointments will be allowed to exit and enter the county. However, it is recommended that you call your healthcare provider in advance to confirm your appointment.
Dare County also released extensive guidelines on the upcoming operation of county facilities, including sanitation, public works, medical facilities, and other county departments. The complete list of closures and scheduled operations can be found here.
Dare County Schools
Per a Thursday announcement from Dare County Schools (DCS), after many hours of preparation, DCS is ready to launch the new remote learning plan beginning on Monday, March 23.
The district website for DCS has been updated to include all of the information that families and students will need to get started. Please see the links below for information on the upcoming program:
U.S. Small Business Administration Disaster Assistance
The U.S. Small Business Administration is offering low-interest federal disaster loans for working capital to North Carolina small businesses suffering substantial economic injury as a result of the Coronavirus (COVID-19). Applicants may apply online, receive additional disaster assistance information and download applications at https://disasterloan.sba.gov/ela. SBA Customer Service Representatives will be available to answer questions and explain the application process at (800) 659-2955 or email disastercustomerservice@sba.gov for more information on SBA disaster assistance.