N.C. Highway 12 is currently closed between Oregon Inlet and Rodanthe due to ocean overwash that occurred with Tuesday morning's 3:00 a.m. high tide, per an update from the North Carolina Department of Transportation (NCDOT). Crews will assess the roadway at daylight, and updates are available via the NCDOT's travel conditions website at https://drivenc.gov/ and on social media at https://www.facebook.com/NCDOTNC12.
Additional overwash was reported early Tuesday morning in Hatteras, Buxton, and in Avon from the Food Lion to the Avon Pier, and standing water and sand remain on the roadway. Travelers are advised to use caution, and to avoid driving if possible, as saltwater can severely damage vehicles.
"If you live on Hatteras Island, today is a day to stay off the roads and wait for the weather to calm down and for our crews to do their work," stated the NCDOT in an 8:00 a.m. update. "Our crews will be out working on clearing the road as soon as conditions allow, and we hope to get the road reopened today at some point. But again, the next high tide, at around 3:30 this afternoon, could be as bad as this morning's."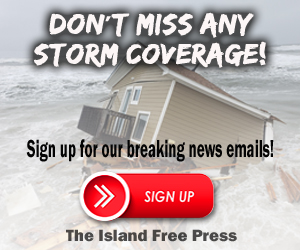 Ferry service for all Ocracoke Island routes is still suspended as of Tuesday morning.
The low pressure system will continue to linger off the Outer Banks through Wednesday, with maximum wind gusts of 45-50 mph currently forecast through Tuesday. Powerful surf with offshore wave heights up to 20 ft. and dangerous rip currents can also be expected for all Outer Banks beaches north of Cape Lookout.
Along the soundside, 1-3 feet of flooding is still possible for low-lying areas throughout the day, particularly for Ocracoke Island and southern Hatteras Island.
For more information on the local forecast, visit www.weather.gov/mhx for weather information, or the National Weather Service office in Newport / Morehead City's Facebook page at https://www.facebook.com/NWSMoreheadCity/.