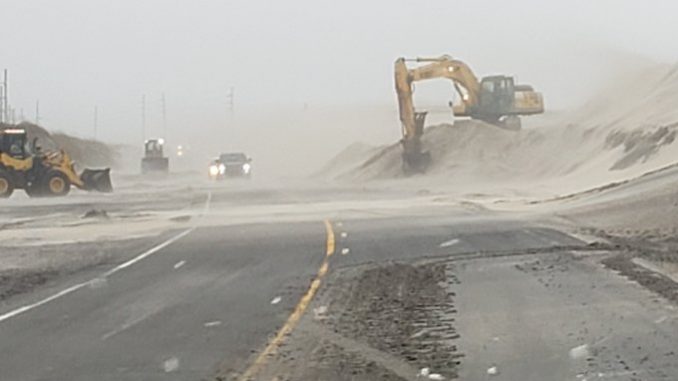 Per county and state officials, N.C. Highway 12 will be closing at 5 p.m. from Oregon Inlet to Rodanthe on Saturday, November 16.
The coastal storm has made travel along N.C. 12, the Outer Banks main thoroughfare, dangerous, NCDOT officials said on Saturday afternoon. There is almost no visibility due to windblown sand accumulating on the highway and it is becoming unsafe for NCDOT maintenance crews working to clear the road. Ocean overwash onto N.C. 12 is likely during high tide cycles later today and tomorrow. 
Per the National Weather Service Newport / Morehead City office, the worst impacts from the coastal storm will occur later tonight and Sunday. While ocean overwash will be the primary threat, soundside flooding will also be a large concern across Southern Hatteras Island, Ocracoke Island, Downeast Carteret County and into the Lower Neuse River.
In some areas on the oceanfront north of Cape Hatteras, battering waves with significant wave run-up will cause damage to property. Numerous roads will be impassable and will be under several feet of water, and vehicles could be submerged by flooding. Portions of N.C. Highway 12 will likely become inundated and will continue to be impassible over the next several days.
Offshore peak wave heights of 15-23 ft. continue to be forecast with the coastal storm, as well as 4-6 inches of additional rainfall for Hatteras and Ocracoke islands. Persistent high winds with gusts up to 60-70 mph have the potential to cause widespread power outages.
The slow-moving low pressure system will finally move away from the region on Monday, with winds diminishing rapidly, though high surf will continue north of Cape Hatteras into early next week.
The next high tide is around 10:00 p.m. on Saturday night.
For more information on the local forecast, visit www.weather.gov/mhx for weather information, or the National Weather Service office in Newport / Morehead City's Facebook page at https://www.facebook.com/NWSMoreheadCity/.
The Island Free Press will continue to post updates on the storm as soon as they become available.