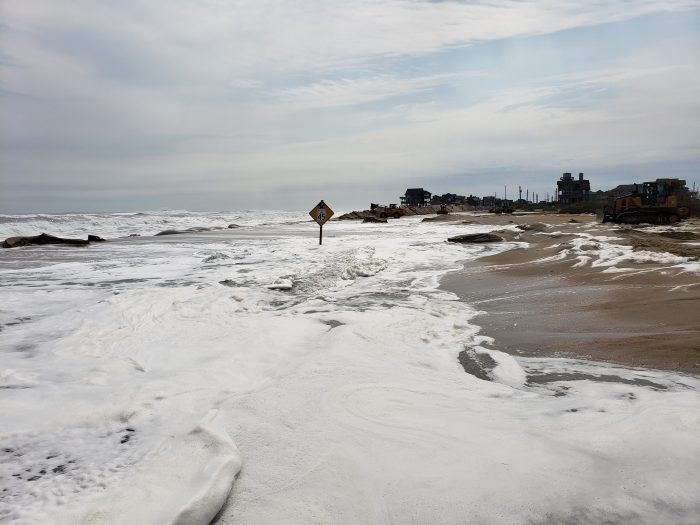 Due to continual ocean overwash with Wednesday's midday high tide, the N.C. Department of Transportation (NCDOT) now estimates that N.C. Highway 12 will open at 6 p.m. at the earliest, per a recent update.
Overwash was impacting the newly formed protective berms on Ocracoke Island and Pea Island, however, NCDOT crews are continuing to work to reopen the highway as soon as possible.
N.C. Highway 12 has been closed since Sunday night in two locations: between Oregon Inlet and Rodanthe on Hatteras Island, and between the Pony Pens and Ferry Terminal on northern Ocracoke Island.
Additional ocean overwash was already reported throughout the islands ahead of Wednesday's 1:00 p.m. high tide in northern Hatteras village, Buxton, Avon, Rodanthe, Pea Island, and northern Ocracoke Island. Standing saltwater and potentially deep sand remain on N.C. Highway 12 at all of these locations. Travelers are advised to use caution and to avoid driving in these areas if possible, as saltwater can heavily damage vehicles.
A Coastal Flood Advisory remains in effect until 5:00 p.m. on Wednesday, and a High Surf Advisory is in effect until 2:00 p.m. on Thursday. Large breaking waves of 6 to 12 feet in the surf zone will lead to an elevated risk of rip currents for the next several days
For more information on the local forecast, visit www.weather.gov/mhx for weather information, or the National Weather Service office in Newport / Morehead City's Facebook page at https://www.facebook.com/NWSMoreheadCity/.
For real-time travel information, visit DriveNC.gov or follow NCDOT on social media.
Mirlo Beach area. Video by Don Bowers