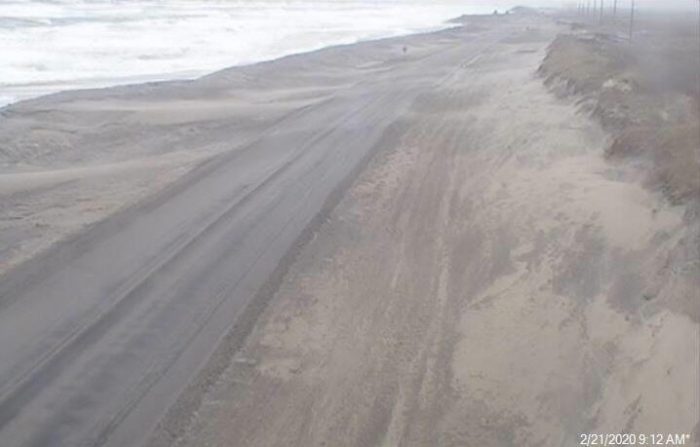 N.C. Highway 12 is open and passable as of Friday morning, but there are a few areas of windblown sand on the roadway south of Oregon Inlet. Travelers are advised to drive carefully and slow down for crews that may be working to clear sand from the pavement throughout the day.
Snow flurries were reported on Hatteras Island as of Friday morning, however there was no snow accumulation on Hatteras or Ocracoke islands.
Rough seas and gale-force winds with gusts of 45 mph or more are expected to continue throughout the day. A coastal Flood Advisory, High Surf Advisory, and Gale Warning remain in effect.
Per a Thursday evening update from the National Weather Service (NWS) Newport / Morehead City office, elevated water levels and minor (1 to 2 feet above dry ground) inundation is possible for low lying areas near the southern end of the Pamlico Sound, and particularly southern Hatteras Island and Ocracoke Island.
Freezing temperatures in the low 30s are also forecast for Friday night, which could possibly damage unprotected outdoor plumbing. Residents are advised to take steps on Thursday to prevent freezing and possible bursting of outdoor water pipes by wrapping, draining, or allowing pipes to drip slowly.
For more information on the local forecast, visit www.weather.gov/mhx for weather information, or the National Weather Service office in Newport / Morehead City's Facebook page at https://www.facebook.com/NWSMoreheadCity/.