Per a Sunday morning update from NCDOT, N.C. Highway 12 is still closed between Oregon Inlet and Rodanthe and will only be reopened when state transportation officials determine it is safe to do so.
The N.C. Department of Transportation officials closed the road on Hatteras Island at 5 p.m. Saturday.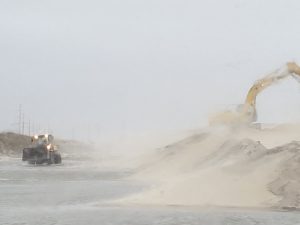 NCDOT officials have been assessing N.C. 12 Sunday morning and have not seen any structural damage to the road, but say N.C. 12 experienced some flooding overwash and wind-blown sand overnight. Sand is covering the road at several locations between Oregon Inlet and Rodanthe, with additional overwash experienced at Avon and Buxton. Conditions remain poor and additional overwash is expected at high tide later this morning and tonight.
Transportation officials will continue to assess the road and announce when it is safe to reopen. NCDOT crews on Sunday have been using front-end loaders and other equipment to remove sand from N.C. 12.
A strong storm bringing heavy rain and sustained winds up to 45 mph has made travel unsafe on parts of the Outer Banks and coastal North Carolina. Some sound-side areas of North Carolina, including Cedar Island, have experienced flooding overnight. The storm is expected to exit this coast later Sunday into Monday.
For real-time travel information, visit DriveNC.gov or follow NCDOT on social media.