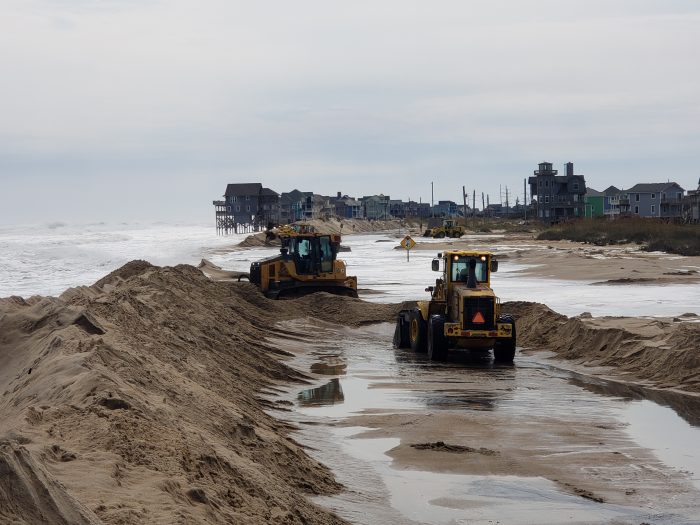 10:45 A.M. UPDATE: N.C. Highway 12 on Hatteras and Ocracoke islands will open to traffic at noon, per a Thursday morning update from the N.C. Department of Transportation (NCDOT).
N.C. Highway 12 will remain closed until at least noon on Thursday, per a Wednesday afternoon update from the N.C. Department of Transportation (NCDOT).
"Today's tides slowed our progress, but we will be working through the night to get everyone where they're going tomorrow," stated the update.
N.C. Highway 12 has been closed since Sunday night in two locations: between Oregon Inlet and Rodanthe on Hatteras Island, and between the Pony Pens and Ferry Terminal on northern Ocracoke Island. NCDOT crews have been continually working to clear N.C. 12 since the roadway was first impacted by ocean overwash on Saturday morning, and Wednesday's high tide brought additional ocean overwash and delayed progress.
Standing saltwater and sand still remain on the roadway in a number of locations along N.C. Highway 12, including northern Hatteras village, Buxton, Avon, Rodanthe, Pea Island, and northern Ocracoke Island. Travelers are advised to use caution and to go slowly, as saltwater can heavily damage vehicles.
A High Surf Advisory is still in effect until 2:00 p.m. on Thursday. Large breaking waves of 6 to 12 feet in the surf zone will lead to an elevated risk of rip currents for the next several days, and beachgoers should continue to stay out of the water.
Elevated water levels may continue to bring coastal flooding and overwash issues with the next high tide at approximately 1:30 a.m., however, the weather will continue to calm down for the next several days, with temps trending back toward normal, (which for this time of year is highs around 80.)
For more information on the local forecast, visit www.weather.gov/mhx for weather information, or the National Weather Service office in Newport / Morehead City's Facebook page at https://www.facebook.com/NWSMoreheadCity/.
For real-time travel information, visit DriveNC.gov or follow NCDOT on social media.