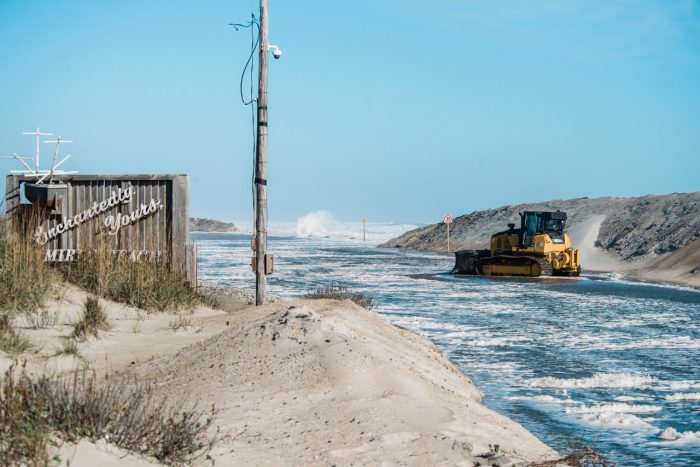 N.C. Highway 12 will likely be closed for the remainder of Monday and may reopen on Tuesday at the earliest, per a recent update from the North Carolina Department of Transportation (NCDOT).
"NC12 is still closed between Basnight Bridge & Rodanthe as travel remains unsafe in this area," stated the NCDOT social media update. "Water, sand are covering parts of the highway at Pea Island & Mirlo. Crews are clearing NC12 where possible. Hopes currently are for a Tuesday reopen."
NCDOT crews will continue to clear areas of N.C. Highway 12 when they are safely able to do so, however, the ocean overwash that damaged the dunes at Mirlo and Pea Island continued to inundate N.C. 12 this morning, and another round of ocean overwash is possible with Monday night's high tide at approximately 10:00 p.m. The highway was closed between Rodanthe and Oregon Inlet on Sunday due to flooding.
Additional flooding was reported with Monday's 10:00 a.m. high tide on multiple sections of N.C. Highway 12, including Pea Island and Mirlo Beach, northern Buxton, northern Ocracoke, and Avon in the Ocean View Drive Area. Standing water remains in these areas, and residents and visitors are advised to avoid travel, as saltwater can damage vehicles.
The low pressure system that began to impact the Outer Banks on Saturday continues to bring heavy winds to coastal North Carolina, but will continue to slowly move away on Monday, with winds gradually diminishing through tonight. Coastal flooding issues could linger into Tuesday, and mainly for areas along the coast where dunes have been severely damaged.
For more information on the local forecast, visit www.weather.gov/mhx for general weather information, or the National Weather Service office in Newport / Morehead City's Facebook page at https://www.facebook.com/NWSMoreheadCity/.