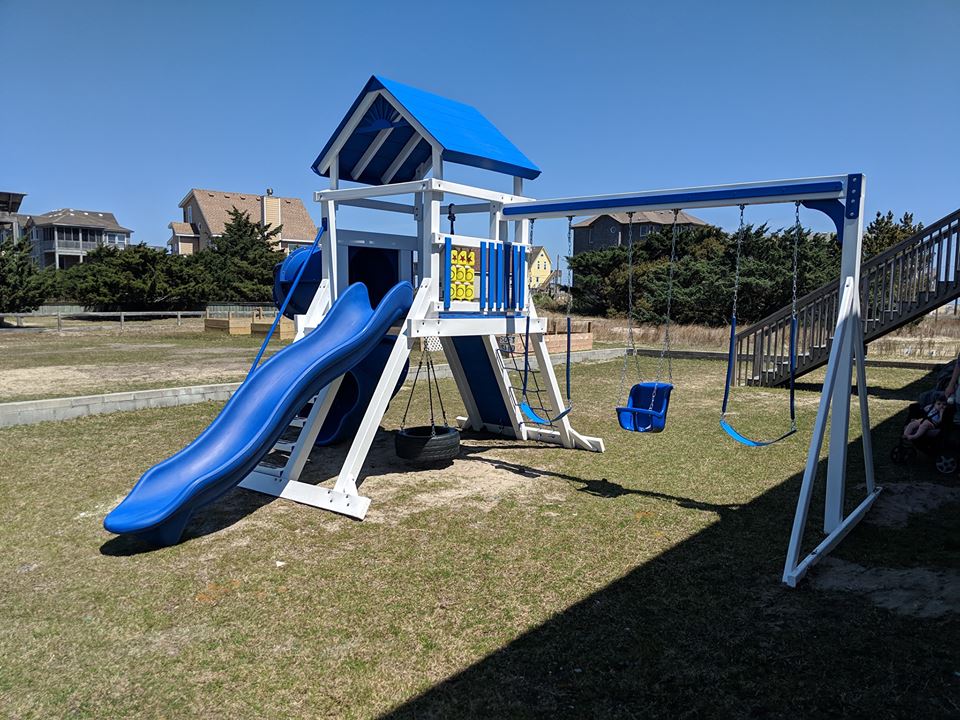 A new community playground on the grounds of the Fair Haven United Methodist Church (UMC) in Rodanthe is now open to the public. Featuring a rock wall, a rope cargo net staircase, two swings, one toddler baby swing, a tire swing, a tic-tac-toe board, a lookout tower, and two slides, the playground recently opened after rapid construction efforts by local volunteers.
The playground stemmed from an idea by Larry and Johanna Wright and is informally called the "Wright Place to Play" in honor of Larry's father, Belton Wright, who was a member of the U.S. Coast Guard and a bronze star recipient.
"Larry and Johanna approached me about wanting to do this project, and they made it happen," says Fair Haven UMC Pastor Tim Fitch. "I was really impressed when I saw it for the first time – [the playground] already had 10 preschoolers on it when it opened, plus me, so it's already a fun place to play… they even let me go down the slide."
The church had a small playground established before, however the equipment was destroyed during Hurricane Michael. The new equipment has been reinforced with concrete so it will stay put during storms, and some of the older equipment will be salvaged and restored, and added to the site as well.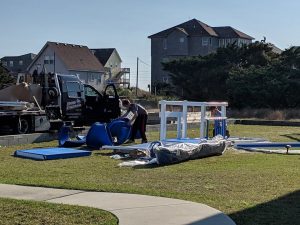 "We're going to salvage pieces out of that [original] playground set, and will build more playground equipment," says Pastor Fitch. "Some local men from the community have volunteered to take that project on."
A prayer garden will also be added to the site in the coming weeks – in addition to the extra playground equipment – but for now, Rodanthe's new community playground is wide open to the public.
"Everyone in the community can come by whenever they want – the playground is open to everyone, 24/7," says Pastor Fitch. "And what I really love about the new playground is that the first impression says a lot. Now, when you look at our church, you see this whole playground in front of it, and that's where our heart is – with our local youth."
"It's a really inviting place for the community, and we want the community to come, have fun, and help us grow."