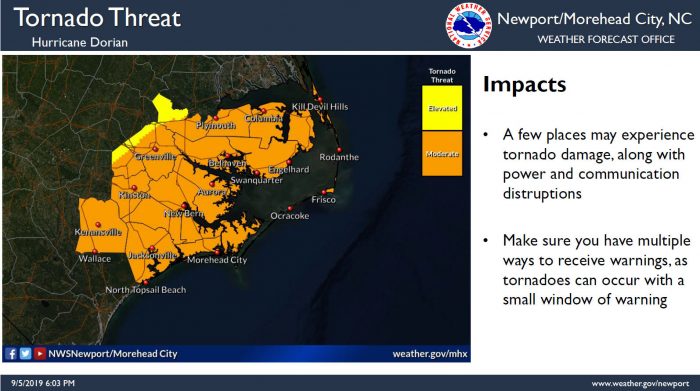 There were no major changes to the forecast for Hatteras and Ocracoke islands in the Thursday evening update from the National Weather Service Newport / Morehead City office. However, with numerous tornadoes and flash flooding incidents already reported in the southern regions of North Carolina, residents are encouraged to have multiple ways to receive warnings regarding potential life-threatening weather conditions, and especially tornado warnings.
As of 6 p.m., Hurricane Dorian was located about 40 miles south of Wilmington, N.C. Dorian is moving toward the northeast near 10 mph (17 km/h), and this general motion is expected to continue with an increase in forward speed through Saturday. On the forecast track, the center of Dorian will continue to move close to the coast of eastern South Carolina for the next several hours, and then move near or over the coast of North Carolina tonight and Friday.
Reports from an Air Force Reserve Hurricane Hunter aircraft indicate that maximum sustained winds are now near 105 mph (165 km/h) with higher gusts. Slow weakening is expected during the next few days, but Dorian is expected to remain a powerful hurricane as the center moves near the Outer Banks.
4-7 feet of storm surge continues to be forecast for Hatteras and Ocracoke islands with very rapid water level rise on the Pamlico Sound as the center of the storm passes on Friday. Initial storm surge impacts will be along the oceanside and will occur as early as Thursday night, especially during periods of high tide. The next high tide is at approximately 1:30 a.m. for Hatteras Island. Life-threatening storm surge inundation is expected, and N.C. Highway 12 may become impassable.
Storm surge inundation will expand north and into the Pamlico Sound Thursday night and will continue into early Friday morning, and the worst conditions for the Outer Banks for soundside flooding are forecast for Friday.
Storm surge estimates are fluid, and the public can keep track of any changes for their specific village or neighborhood via the interactive National Hurricane Center's Storm Surge Inundation Map.
8 to 10 inches of rain is still forecast for northern Hatteras Island, and 6-8 inches of rain is forecast for southern Hatteras Island and Ocracoke Island. A Flash Flood Watch is in effect for the Outer Banks. Flash flood risk is expected to be at its highest late tonight through Friday morning, with rain rates of more than 2 inches per hour at times.
Winds have increased slightly with the latest forecast, with maximum sustained winds up to 95 and wind gusts up to 122 mph currently forecast for the islands. Tropical-storm-force winds expected to arrive sometime Thursday evening or night.
Tropical-storm-force winds could last for 18 hours, while winds over 70 mph could last for up to 8 hours. Life-threatening winds will lead to downed trees, as well as power and communication outages.
As of 7:30 p.m. Thursday, N.C. Highway 12 remained passable throughout the seven villages.
Monitor updated local weather forecasts, watches and warnings from the National Weather Service at www.weather.gov/mhx.