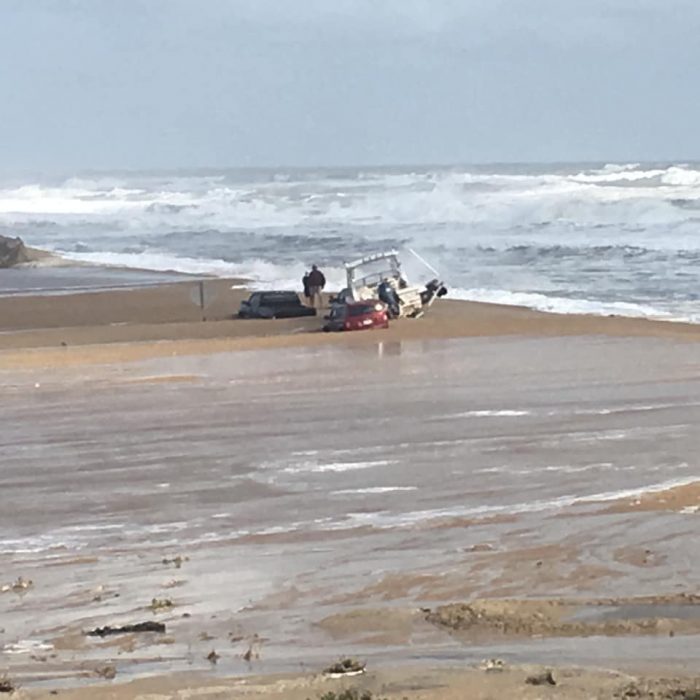 N.C. Highway 12 continues to be closed between Rodanthe and the Bonner Bridge, and the coastal low pressure system that has stalled off the East Coast has become Subtropical Storm Melissa, per a Friday afternoon update from the National Weather Service.
As of noon on Friday, Melissa was located about 190 miles south of Nantucket, Massachusetts, with maximum sustained winds of 65 mph. Melissa continues to remain more or less stalled, with a 3 mph movement towards the South-Southwest.
Gradual weakening is expected over the next couple of days, and Melissa is forecast to lose its subtropical characteristics by Saturday night.
Oceanside flooding was reported before and after Friday morning's high tide in Hatteras village, north Buxton, Avon, and Rodanthe through Pea Island. The N.C. Department of Transportation cautions travelers that portions of N.C. Highway 12 are expected to be closed for extended periods of time during high tide cycles over the next few days, as the storm lingers off the Atlantic coastline.
Ocean overwash is expected to continue over the next several high tide cycles, and especially north of Cape Hatteras. The next high tide on Friday is at approximately 7:30 p.m. at Oregon Inlet, Saturday's high tides are at approximately 7:45 a.m. and at 8:00 p.m.
Dangerous surf conditions, including rip currents, beach erosion and continued ocean overwash are forecast along the Outer Banks into this weekend, with the most significant impacts expected along the ocean side north of Cape Hatteras.
Seas will run between 10 to 14 feet just offshore from the Outer Banks north of Cape Hatteras, and a high surf advisory has been posted until Saturday morning for breaking waves of 6 to 9 feet onshore.
Strong NNW winds of 15-25 mph with gusts of 30-35 mph are forecast for Friday, and winds will diminish by Saturday.
The Island Free Press will post road condition updates as soon as they are available.