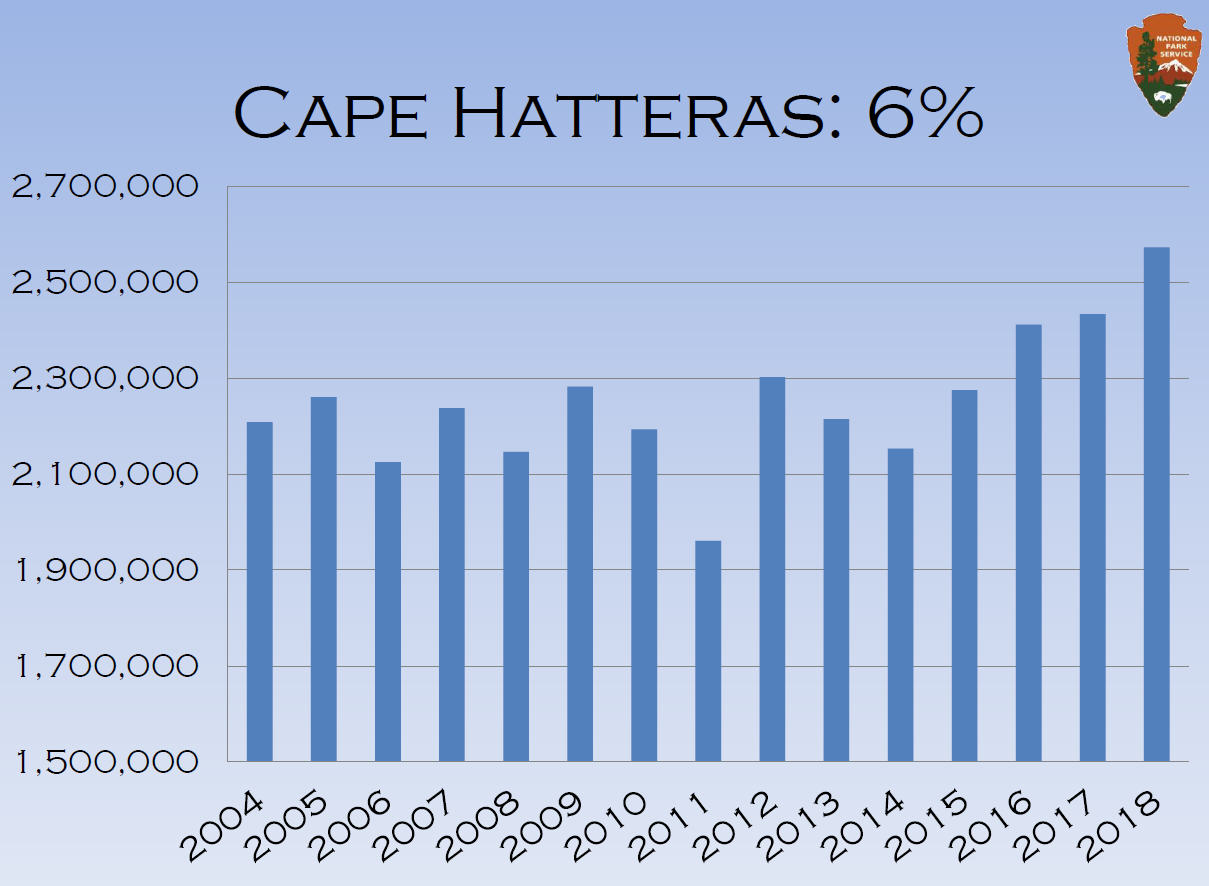 National Parks of Eastern North Carolina Superintendent David Hallac presented an overview of recent activity within the Cape Hatteras National Seashore at a Wednesday evening presentation that attracted roughly 25 locals and visitors.
2018 was a banner year for the National Seashore in terms of visitation, and a number of other categories which ranged from wildlife monitoring to ORV permit sales.
"Last year was just incredible," said Hallac. "We broke the 2.5 million mark for visitation to the National Seashore."
Though the National Park Service (NPS) manages three sites on the Outer Banks – Cape Hatteras National Seashore (CHNS), Fort Raleigh National Historic Site, and Wright Brothers National Memorial – it was CHNS that garnered the influx of visitors. Visitation for Fort Raleigh was down 5% in 2018, while visitation to the Wright Brothers Memorial was down 13% – likely due to the visitors' center renovation project.
Cape Hatteras National Seashore, however, saw a 6% increase in visitation over 2017, making it the highest year for visitation since 2003.
Though it was hard to pinpoint the precise factors that lead to the increase, Hallac gives some credit to the year's weather, which was consistently warm, albeit rainy. July 2018 was a stand-out month when it came to rainfall, with 20.31" inches total, or 400% more than the 30-year average. "The record before this was about 10 inches, and that was in the 1990s," said Hallac.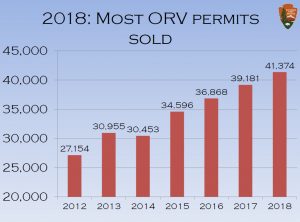 CHNS also saw the highest number of ORV permits sold in 2018 – a trend that has been steadily continuing year after year, with 41,374 permits sold in 2018 versus 2017's total of 39,181 permits. Of those permits, roughly a third were annual ORV permits, and the rest were weekly permits.
In addition, 93% of ORV routes were open during the summer of 2018 with a total of 27 out of 29 miles open, which aligned with 2017's total of 27 miles open throughout the summer months – or from May to September.
"We started to make changes in 2015 for [ORV accessibility] and we have consistently had 90% or more of our beaches open during the past several years," said Hallac.
Other 2018 National Seashore Statistics
While visitation to CHNS was at record levels in 2018, ferry traffic from Hatteras village to Ocracoke was down. A little more than 300,000 visitors took the ferry to Ocracoke Island, while just a few years ago, this number was consistently in the 400,000 to 500,000 range.
CHNS offered 876 programs for visitors, which resulted in a total of 17,518 participants
Sea Turtle nesting was down in 2018 within the National Seashore, but this aligned with a regional trend along the Southeast Coast. 155 sea turtle nests were recorded in the seashore in 2018, versus 240 in 2017.
Black Skimmers had a record year in 2018 with 368 total nests reported within CHNS. This tops the previous record in the past 20 years, which was 342 nests in 2003.
What's Coming in 2019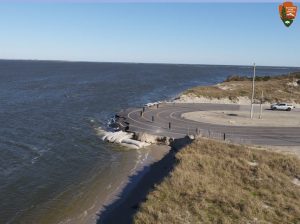 Hallac also looked at the challenges and projects that were expected in the year ahead, starting with seashore-wide erosion problems, especially in south Avon, and in northern Ocracoke Island near the ferry docks. "There are challenges in these area, but there are challenges everywhere in the seashore," said Hallac.
Another challenge facing the islands was wildland fire risk, and particularly in the heavily wooded areas of Buxton and Frisco. "It's not a pretty picture in terms of fire risk back there," said Hallac, noting that the NPS was looking into partnerships to educate the public about steps homeowners can take to mitigate their risks. "There's more to come, and [we need you] to help us get the message out."
Hallac also touched on the progression of the new parking areas at Kite Point and in Buxton at the site of the former Coast Guard housing, and noted that after public concerns about the increase of traffic along Lighthouse Road in Buxton, he reached out to NCDOT with Hatteras Island Dare County Commissioner Danny Couch. "They did a final assessment of the road, and there will be some shoulder repairs in the coming months," he said. "[NCDOT is] also sensitive to the concerns of the residents in that area, and plan to make some improvements there."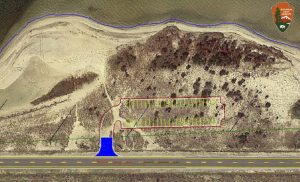 The Kite Point parking area is also progressing nicely, and will provide roughly 50 spaces for kiteboarders and beach-goes who used to park alongside N.C. Highway 12.  "Our goal is to get everyone off the road, especially people accessing Kite Point, so we can make this a safer area for everyone."
Both parking sites are expected to be open by or around Memorial Day.
Finally, Hallac reviewed the status of the Dark Sky Designation efforts, as well as some projects that were more or less in the early discussion stages.
These projects included a potential plan to install more parking spaces near ORV ramps 43 and 44 – an area which became popular with on-foot visitors during the heyday of Shelly Island off of Cape Point in 2017.
"We've been hearing [from the public] that we should clean up that area and add more parking," said Hallac, "and interestingly enough, we had planned for something similar in 1984…. So we will do more for parking in that area."
While Wednesday night's presentation was lightly attended, the overview and the park service representatives on hand garnered a warm response – another trend, Hallac noted, that has been noticeable in recent years, as evident by the NPS winning first place in 2018's Hatteras Village Christmas Parade. "That was a testament to the open arms you have given us, and we [want] our good relationship to continue," said Hallac.
"We have an unprecedented relationship with the park service that we haven't had since the 1950s," said Dare County Commissioner Danny Couch. "It proves that a thriving and vibrant tourism community is not exclusive to wildlife protection – you can have both."