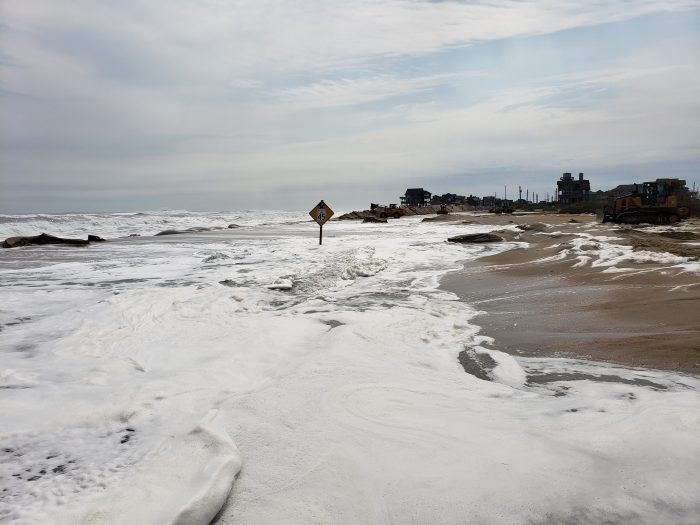 The U.S. National Weather Service (NWS) Newport / Morehead City recently released their storm and coastal flooding summary on the impacts of Hurricane Sally and Hurricane Teddy to the Outer Banks
The remnants of Sally affected the OBX area from September 17-18 with heavy rains and minor flooding, while distant Hurricane Teddy started to impact the coastline on September 20, causing multiple rounds of ocean overwash that closed N.C. Highway 12 for five consecutive days.
Both storms were unique, but Hurricane Teddy was especially distinct because of its broad impacts, despite the fact that the system remained well offshore. The following summary outlines how these effects occurred, as well as the more prominent impacts to the N.C. coastline, and particularly, Hatteras and Ocracoke islands.
Overview
The Outer Banks area often has direct impacts from tropical cyclones due to its location along the coast of Eastern North Carolina, and while much attention is given to land-falling cyclones, impacts can often occur from either decaying cyclones (remnants) or distant storms in the ocean.
In the middle of September 2020, the remnants of Hurricane Sally and distant Hurricane Teddy provided excellent examples of this scenario. The biggest impacts were from the distant swells from Hurricane Teddy, which combined with already high astronomical tides and elevated water levels due to persistent northeast winds.
As a result of these factors, coastal flooding occurred over multiple tide cycles from Sunday, September 20, through Wednesday, September 23. Coastal flooding occurred along the lower Neuse River near Oriental, near the Pamlico Sound in Downeast Carteret County, and also in downtown Morehead City and Beaufort. These impacts were mainly minor, with elevated water levels over most of the adjacent sounds and rivers near these areas.
The most severe impacts were over the Outer Banks, especially Hatteras and Ocracoke Islands. N.C. Highway 12 was closed for multiple days due to severe beach erosion and ocean overwash, and large sections of dunes were completely washed out. While water levels lowered by Wednesday, September 23, portions of N.C. Highway 12 remained closed as ocean overwash continued to occur due to the lack of dunes.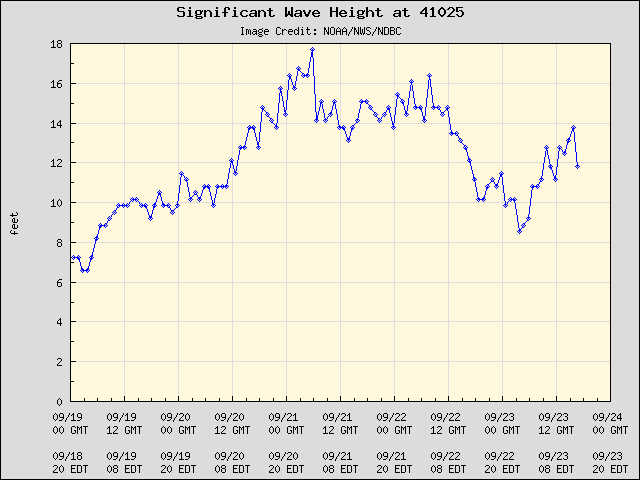 High Surf
The Diamond Shoals buoy is located less than 20 miles off of Cape Point on Hatteras Island.  Wave heights were 10 feet or greater were recorded for more than five days starting on September 19.
Waves peaked at around 18 feet on September 21, but as the graph above shows, the significant waves continued for a long duration of time. This long-duration swell from distant hurricane Teddy caused severe beach erosion and rough surf all along our coastline.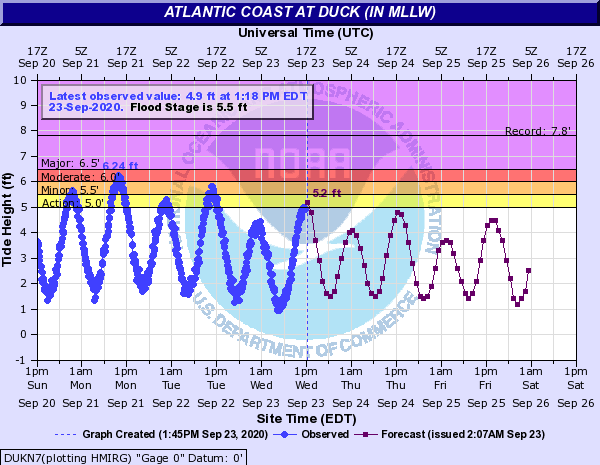 Coastal Flooding Summary
The biggest impacts to the Outer Banks during the storm were associated with coastal flooding. The flooding was caused by three different factors:
During certain periods of the year, we have higher than normal astronomical tides. These higher tides can cause flooding even absent of other weather factors, and often are referred to as "sunny day" flooding or "king tides." These higher tides caused elevated water levels as early as September 15, and high water levels continued through September 21.
During a stretch of three days (September 19 – 21), we had a persistent northeast to north wind that was quite strong over the coastal waters. This prolonged intensity and similar wind direction caused water levels to increase, and enhanced the effects of the already higher-than-normal tides.
Lastly, during this same period, (19th – 22nd), we had a large, strong, swell from Distant Hurricane Teddy. The large swell led to wave run-up on the beaches, which caused severe beach erosion, along with dune breaches and ocean overwash in many areas along the Outer Banks. Portions of N.C. Highway 12 along Hatteras Island and Ocracoke Island were closed for multiple days, and more than a few locations along this stretch had more than 1,000 feet of dunes that were washed away.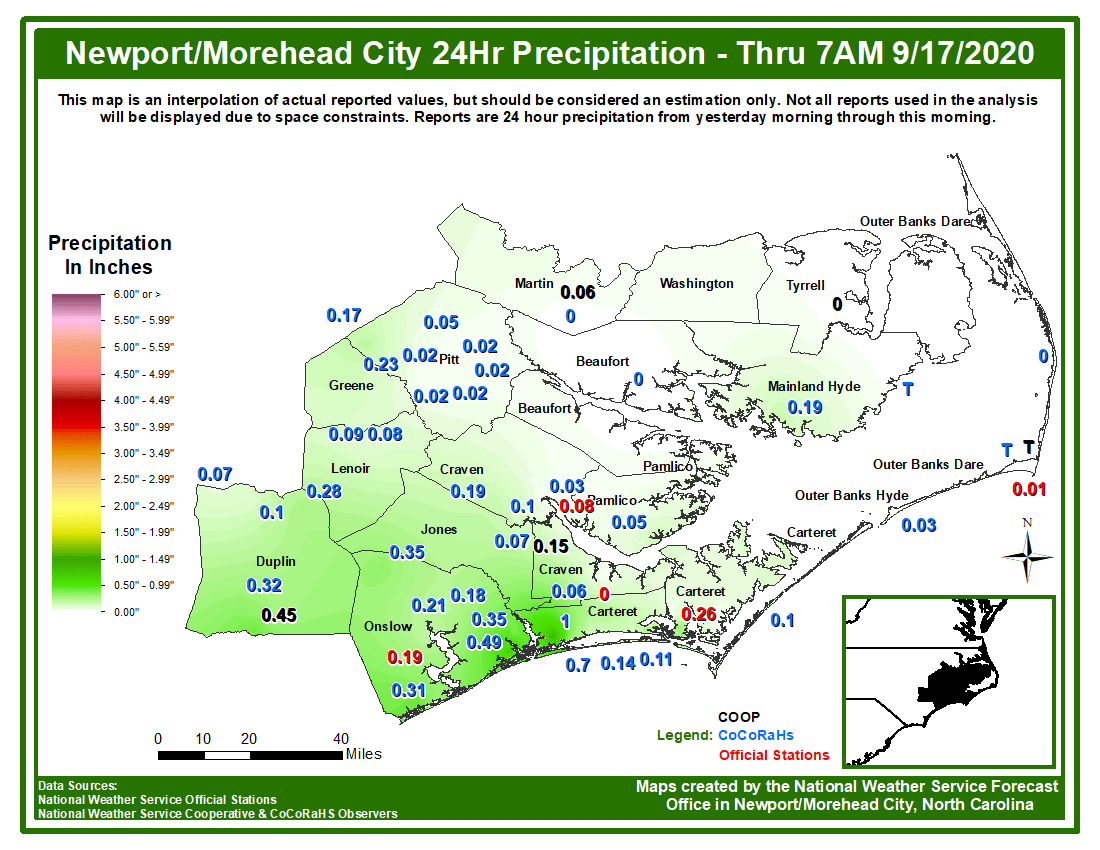 Heavy Rain
As the remnants of Sally spread through the Carolinas, bands of heavier rain moved across our area starting early on the morning of September 17. The intensity of the rain peaked during the evening of the 17th into the early morning of the 18th. Outside of the far northwest part of Eastern N.C., a general 2 to 5 inches fell in association with Sally. The Outer Banks area received only minor impacts due to the rainfall, and mainly some issues with ponding of water in low lying or poor drainage areas.