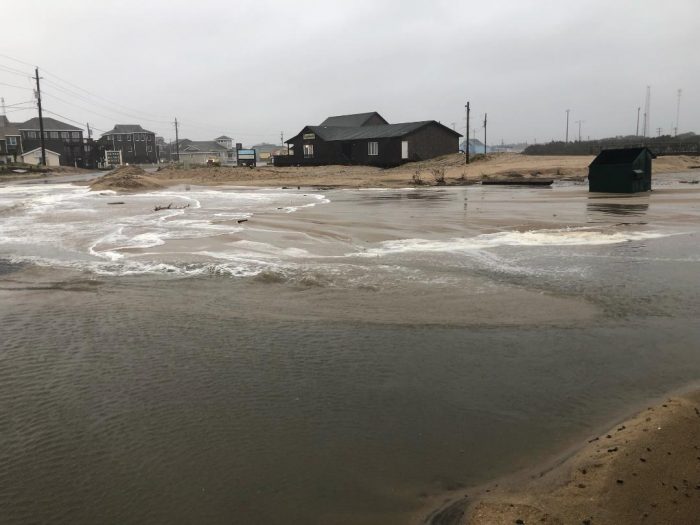 Ocean overwash was increasing and affecting N.C. Highway 12 as of 8:30 a.m. on Sunday. Coastal flooding was reported in Avon from the Ace Hardware to the Avon Pier, and in north Buxton. Ocean overwash was also starting to breach the dunes in northern Rodanthe.
N.C. Highway 12 was reportedly passable with limited standing water from Buxton south to Hatteras Village, and from Avon to the Tri-villages.
Oceanside flooding will continue to impact N.C. Highway 12 throughout the day. Per the National Weather Service (NWS) Newport / Morehead City office, at this time, the most significant overwash is forecast to occur with high tide this morning, which is at approximately 10:30 a.m.
A Coastal Flood Warning remains in effect until 1:00 a.m. on Monday, and 2 to 4 ft. of storm surge inundation continues to be forecast for oceanside Hatteras Island. Rough surf and beach erosion are expected throughout the day.
Winds will start to diminish on Sunday, however, some gusts of 40-45 mph will still be possible through midday Sunday.
Offshore seas will remain in the 17 to 21 ft. range through today, and as the strong low pressure system moves into the New England region Monday and Monday night, seas will remain elevated, (at or above 10 feet), before finally subsiding on Tuesday. Confidence is decreasing that soundside flooding will impact southern Hatteras and Ocracoke islands, and heavy rains will mostly remain offshore.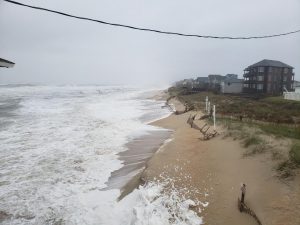 N.C. Highway 12 continues to be closed from Rodanthe to Oregon Inlet. NCDOT reported on Saturday afternoon that crews will be out early on Sunday to assess N.C. Highway 12 and to determine when the closure can be lifted. However, continued hazardous conditions are expected over the next 24 hours, as well as the possibility for continued road closures.
For information about current road conditions from the North Carolina Department of Transportation (NCDOT), visit drivenc.gov or dial 511. When dialing 511 on weekdays from 8:15 a.m. to 7:45 p.m., weekends from 8:15 a.m. to 4:45 p.m., callers speak directly with an operator who can answer traffic and travel-related questions. Overnight and during emergencies, travelers should go to DriveNC.gov for the latest travel information. For real-time travel information, visit DriveNC.gov or follow NCDOT on social media.
For more information on the local forecast, visit www.weather.gov/mhx for weather information, or the National Weather Service office in Newport / Morehead City's Facebook page at https://www.facebook.com/NWSMoreheadCity/.
The Island Free Press will continue to post updates as soon as they become available.