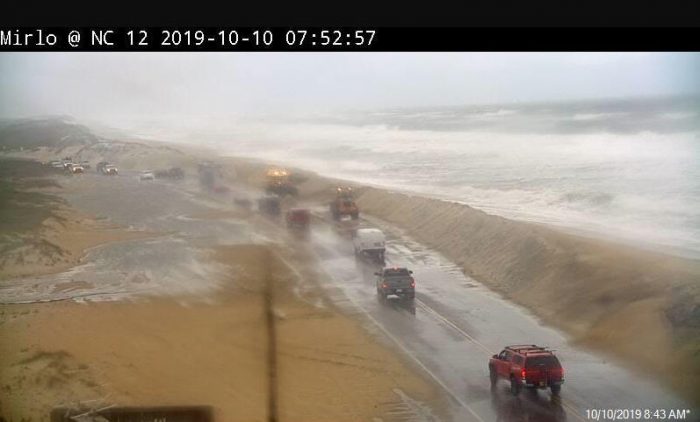 Ocean overwash on N.C. Highway 12 was reported on Thursday morning in northern Rodanthe, and periods of overwash and beach erosion are expected to continue over the next several days, especially around high tide, and mainly north of Cape Hatteras.
NCDOT crews are currently clearing sand from N.C. Highway 12 as of Thursday morning, however, motorists should use caution when traveling the entire section of the highway from Oregon Inlet to Hatteras Village.
Thursday evening's high tide is around 6:45 p.m. at Oregon Inlet, and high tide on Friday is at approximately 7:15 a.m. and 7:30 p.m., and 7:45 a.m. and 8:00 p.m. on Saturday.
The ocean overwash is due to a large low pressure system that is lingering off the Mid-Atlantic coast. Dangerous surf conditions, including rip currents, beach erosion and ocean overwash are expected to continue along the Outer Banks into early this weekend, with the most significant impacts expected along the ocean side north of Cape Hatteras.
Seas will run between 10 to 14 feet just offshore from the Outer Banks north of Cape Hatteras, and a high surf advisory has been posted until Saturday morning for breaking waves of 6 to 9 feet onshore.
Strong NNW winds of 15-25 mph with gusts of 30-35 mph are forecast for Thursday and Friday. Winds will slowly diminish Friday night and Saturday.
Persistent northerly winds over the next few days could also result in minor coastal flooding for locations adjacent to the Southern Pamlico Sound and lower Neuse River.
The National Hurricane Center is also highlighting this system in their Tropical Weather Outlook, and it could attain subtropical characteristics later in the week.
For more information on the local forecast, visit www.weather.gov/mhx for weather information, or the National Weather Service office in Newport / Morehead City's Facebook page at https://www.facebook.com/NWSMoreheadCity/.