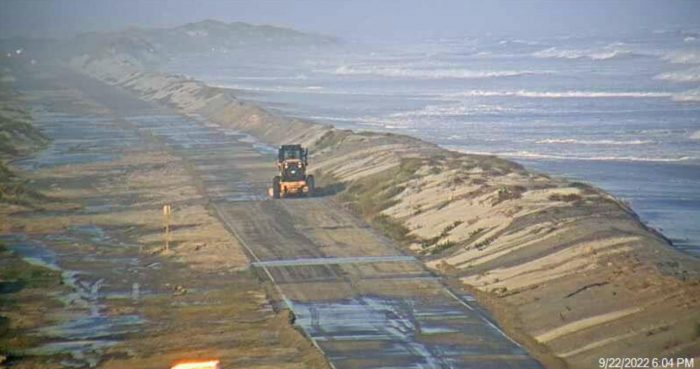 Minor ocean overwash was reported north of Hatteras village and on northern Ocracoke Island with Thursday evening's high tide, however, North Carolina Department of Transportation (NCDOT) crews are clearing the roadway, and N.C. Highway 12 remains open and passable throughout Hatteras and Ocracoke Islands.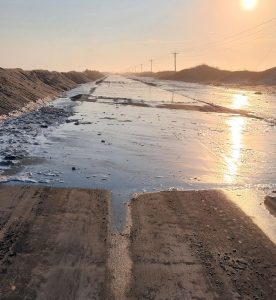 NCDOT stated in a social media update that they are preparing for additional overwash in the next several days, due to distant Hurricane Fiona heading up the East Coast.
"Our crews are out today beefing up the protective dune on NC12 at the Pea Island Visitor Center (as well as areas on Ocracoke and north of Hatteras Village) as we prepare for any coastal impacts from Hurricane Fiona," stated the update. "While we are not expecting major impacts from the distant storm, we are doing what we can to protect the roadway and are staging equipment to remediate [any] impacts that do occur."
A Coastal Flood Advisory, High Surf Advisory, and Gale Warning are in effect as of Thursday evening due to indirect impacts expected from distant Hurricane Fiona. A High Surf Advisory has also been issued through Friday afternoon due to large breaking waves of up to 8 to 12 feet in the surf zone for all area beaches.
While Fiona is expected to remain well offshore, strong long-period swells from the hurricane will result in several days of dangerous rip currents, minor coastal flooding, and hazardous marine conditions, per a Thursday morning update from the National Weather Service (NWS) Newport/Morehead City Office.
Minor ocean overwash and beach erosion are possible for all Outer Banks beaches, but especially south of Oregon Inlet through Cape Lookout. Wave runup from powerful swells could result in 1 to 2 feet of inundation of some beachfront properties and roadways.
The tide of greatest concern is the Friday evening high tide at approximately 6:30 p.m., but overwash issues could also occur with the high tide on early Friday morning, and N.C. Highway 12 may be affected.
Due to anticipated road conditions, Cape Hatteras Elementary School and Cape Hatteras Secondary School will operate on a 3-hour delay on Friday, September 23.
A high risk of rip currents is also in effect for all Outer Banks beaches on Thursday and Friday, and the risk is expected to linger through the weekend. A high risk of rip currents means that the surf zone is dangerous for all levels of swimmers, and beachgoers should stay out of the water.
For more information on the local forecast, visit www.weather.gov/mhx for weather information, or the National Weather Service office in Newport / Morehead City's Facebook page at https://www.facebook.com/NWSMoreheadCity/.