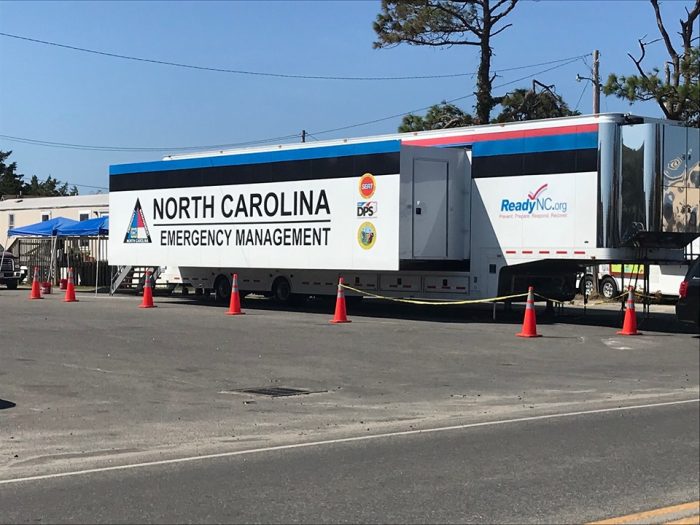 The mobile Ocracoke Joint Recovery Center, which has served as a central site for island residents in need of assistance since Dorian made landfall on September 6, will be closing on Thursday, November 7, at 4 p.m.
Hyde County urges all business owners and residents who have suffered any impacts from Dorian to visit the Joint Recovery Center and meet with a Customer Service Representative for one-on-one assistance.
Disaster Assistance programs will continue to be available after the Joint Recovery Center leaves Ocracoke, but access will be through the U.S. Small Business Administration (SBA) website. The deadline for filing with the SBA for physical damage to property is December 16, 2019, and applications for SBA loans can be made online at https://disasterloan.sba.gov/ela/.
The SBA loan application is the portal to all other Disaster Assistance programs. Residents who do not apply for SBA loan assistance may not be eligible for any other programs. The purpose of the loan application is to determine if residents' existing resources qualify them for a loan, grant, housing assistance, volunteer services or other types of Disaster Assistance. Please remember that there is no obligation to take a loan, however, it is important to apply, as other assistance that might become available often requires that registration with the SBA has been previously completed.
"We highly recommend that all residents and business owners visit the recovery center to fill out an intake form, even if you are not requesting assistance," stated Hyde County in an earlier press release. "This will ensure that we have as much information as possible about the short term and long term needs of the community as we continue the recovery efforts."
For more information, Ocracoke residents can also call the state Individual Assistance helpline at 919-825-2378.