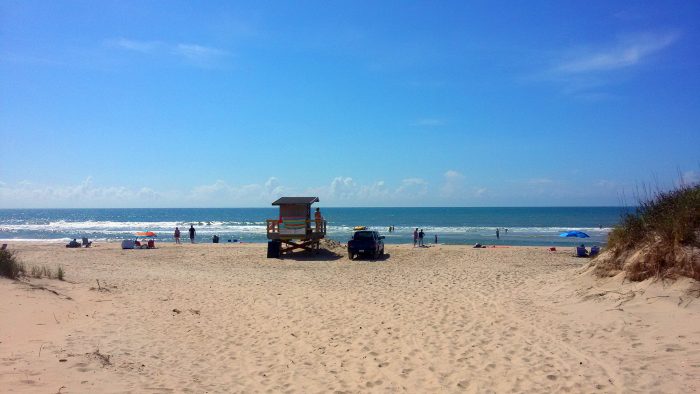 Hatteras and Ocracoke Islands once again earned top spots on the annual Dr. Beach's 10 Best Beaches in the USA list, with the Ocracoke Lifeguarded Beach ranked as the #1 best beach in the country, and the Old Lighthouse Beach in Buxton ranked as the #6 best beach.
Released just before Memorial Day, the list is the brainchild of coastal expert Dr. Stephen Leatherman, director of the Florida International University's Laboratory for Coastal Research, who has chosen America's Top 10 beaches since 1991.
Per a press release about the 32nd annual list, Dr. Leatherman explained Ocracoke's allure as follows:
"Ocracoke is an idyllic island far off the North Carolina mainland with the pristine beach being part of Cape Hatteras National Seashore. Often called the pearl of the Outer Banks, the village of Ocracoke is characterized by delightful inns, the iconic 1823 lighthouse, legendary herd of once wild ponies and a serene British cemetery; it is also the destination of choice for pirate lovers, being the stomping grounds of Blackbeard. This is my favorite getaway island, boasting of 16 miles of undeveloped beach and American beach grass covered sand dunes. The Ocracoke Express Passenger Ferry is now operating, making it a car-free way to explore the area; I enjoy riding a bicycle or renting a golf cart. Families will enjoy the early summer when the waves are smaller with the surfers catching the swell waves later in the season."
The rankings are based on 50 criteria, including water and sand quality, as well as facilities and environmental management.
More than 650 beaches in the country are included in the judging, and both Hatteras and Ocracoke islands have made regular appearances on the list since it was first formed, with Ocracoke Lighthouse Beach also landing the #1 spot in 2007.
The complete list of 2022 winners is below.
1. Ocracoke Lifeguarded Beach, Outer Banks of North Carolina
2. Caladesi Island State Park, Dunedin/Clearwater, Florida
3. Coopers Beach, Southampton, New York
4. St. George Island State Park, Florida Panhandle
5. Duke Kahanamoku Beach, Oahu, Hawaii
6. Lighthouse Beach, Buxton, Outer Banks of North Carolina
7. Coronado Beach, San Diego, California
8. Wailea Beach, Maui, Hawaii
9. Beachwalker Park, Kiawah Island, South Carolina
10. Coast Guard Beach, Cape Cod, Massachusetts