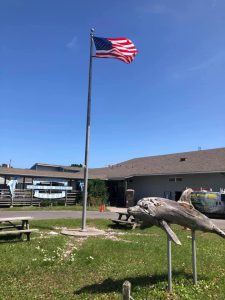 The Open House scheduled for Tuesday and the official start of school on Wednesday has been postponed, due to slightly elevated numbers on an air quality test at the North Carolina Center for the Advancement of Teaching (NCCAT) building, per a recent update from Hyde County Public Schools.
"Well, we said that any one of a number of things could derail our plans and that we would always err on the side of safety" stated Hyde County Public Schools in the online update. "Last night, we received some slightly elevated numbers on the air quality test in just a couple areas at NCCAT. As a result, we are going to postpone our Open House [today], and planned opening of Ocracoke School tomorrow."
"We have already communicated with our Air Quality team and our cleaning team at Builder Services worked last night wiping everything down and cleaning the air," the statement continued. "Today, we have an Industrial Hygienist coming in to do some further air quality testing."
"While he is here, we will have him do air quality testing on the Day Care building as well, even though they did not receive any flooding, just as a precaution"
The Hyde County Public School System also stated that air quality testing at the elementary school has already been completed, and everything came back clear.
Per the Ocracoke Observer, as it stands, Pre-K to first grade will relocate to Ocracoke Child Care on Old Beach Road. Second through grades five will be on the second floor of the elementary building. The remaining grades will be at the NCCAT building, adjacent to the ferry docks in the village.
Teachers returned to school on Wednesday, September 25, and have been working tirelessly at the three locations to prepare the sites for returning students. Internet access has been established at all three locales, and classroom setups have been created as well, while renovations continue at the main Ocracoke School.
"As badly as we want to get school open, we are going to do this right and safely for our students and staff," stated Hyde County Public Schools. "As soon as we know a timetable for clearing this latest bump in the road, we will get that information out to you. We'll get there! We will do this!"