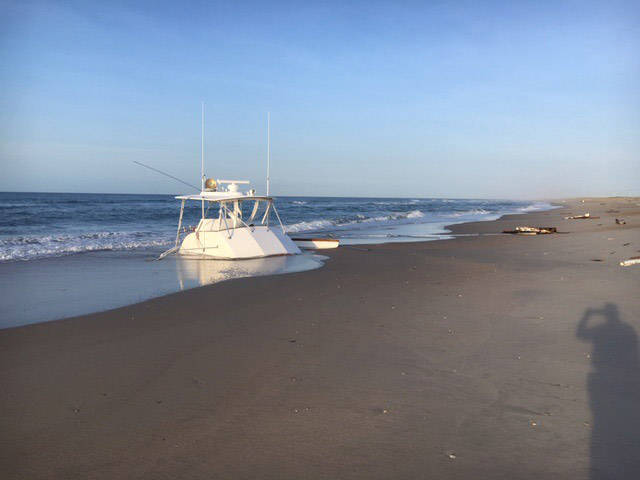 Debris from a vessel that washed ashore on northern Ocracoke Island on Friday is currently being cleaned up by a salvage company contracted by the vessel's owner. Though a portion of the vessel is stuck on a sandbar along the shoreline, the debris field is small enough that visitors can still drive or walk around the area, which is located approximately 1.2 miles south of ORV Ramp 59.
"Pieces are still coming off of the sandbar and onto the beach, so the salvage company is taking care of debris as it washes ashore," said Mike Barber, Public Affairs Specialist for the Cape Hatteras National Seashore. "Thankfully, everyone on board [the vessel] was safe."
The U.S. Coast Guard has also inspected the wreckage for leaking or excess fuel, and found no fuel concerns at the site.
The vessel is believed to be a boat that sank 17 miles off of Hatteras Inlet on Saturday morning, May 18, and which then washed ashore on northern Ocracoke Island six days later on Friday, May 24.
This is the second shipwreck of the year on Hatteras and Ocracoke islands, as a trawler broke apart off the beach in Frisco in February of 2019. During that wreck, the debris field expanded for more than a mile from ORV Ramp 49 to Ramp 48 in Frisco, and the shoreline had to be temporarily closed until it could be cleared with the help of roughly 100 volunteers.
This recent Ocracoke shipwreck required minimal clean-up efforts, which are being tackled by the salvage company.
"There is still some debris in the area, but the salvage company is there, and the [extent of the debris] is not like the previous vessel that washed up," said Barber.
There is not yet a timeframe on when the large portion of the vessel will be removed from the beach, but it will likely happen within a few days.