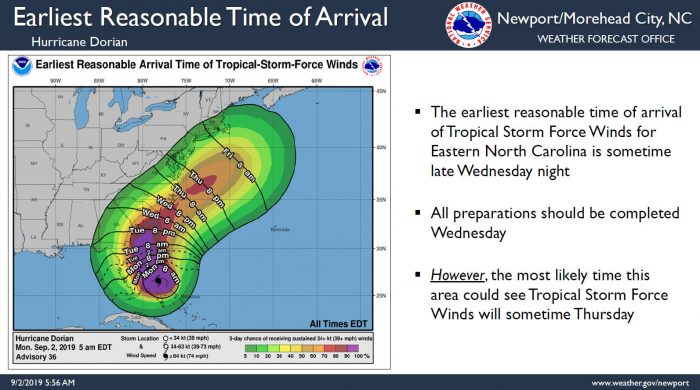 The threat for significant and direct impacts from Dorian continue to increase for the Outer Banks area based on the latest track, per a Monday morning update from the National Weather Service (NWS) Newport / Morehead City office.
The Hyde County Board of Commissioners have enacted a State of Emergency in advance of Hurricane Dorian that goes into effect on Monday, September 2, 2019 at 5:00 a.m. Local officials will meet again on Monday at 1:00 p.m. to discuss the forecast and any additional emergency protective measures necessitated by the weather conditions.
Per Dare County Emergency Management Director Drew Pearson, the Dare County Control Group will be meeting Monday afternoon to receive a weather service brief and to discuss actions that might be needed to ensure public safety across Dare County.
Given the current forecast for Hurricane Dorian, the NCDOT Ferry Division has announced that Monday, September 2, 2019 will be the last day the passenger ferry "Ocracoke Express" will be in operation this season.  The early discontinuation of service will allow the vessel to embark to safe harbor long before the arrival of Dorian.
Per the NWS, there is increasing confidence that Eastern N.C. will see direct impacts as early as sometime Wednesday, with impacts most likely Thursday and Friday.
The threat for tropical storm-force winds locally has remained steady across much of the area, but is now likely along the immediate coast of adverse conditions. Tropical storm-force winds may arrive as early as sometime late Wednesday night, but are most likely to arrive Thursday.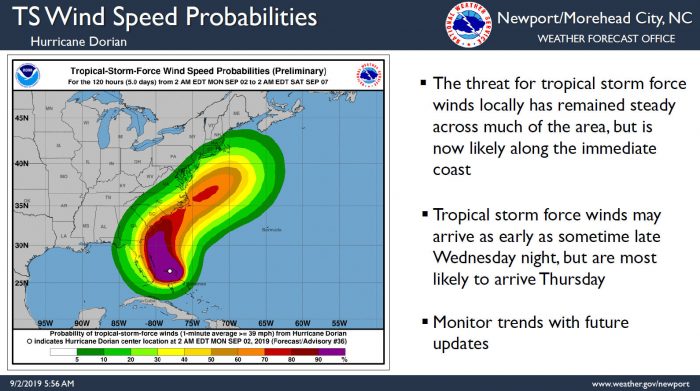 The threat for a prolonged periods of heavy rainfall across eastern North Carolina is increasing, regardless of the track, with roughly 6-10 inches of rain currently forecast for Hatteras and Ocracoke islands. Locally, most rain will occur Wednesday through Thursday night. Prolonged periods of heavy rainfall could lead to flash flooding, and there is the potential for life-threatening storm surge inundation.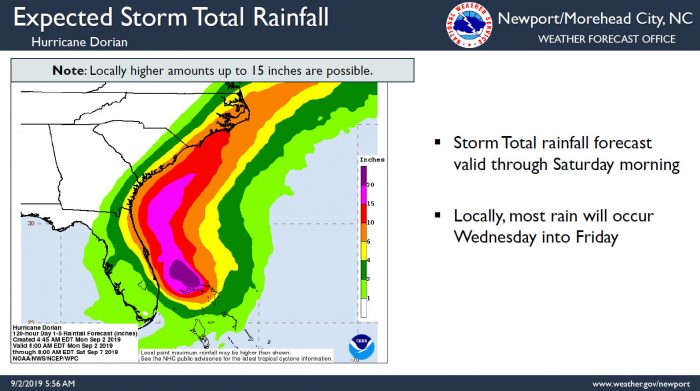 Large swell from Dorian will continue to impact the Eastern N.C. coast this week, and a high risk of rip currents will remain in effect all week long.
Per county officials and the NWS, now is the time to complete your hurricane preparedness plans, and all preparations should be completed by Wednesday.
At 8:00 a.m. on Wednesday the eye of Hurricane Dorian was located by NOAA Doppler radar near latitude 26.7 North, longitude 78.2 West. Dorian is moving toward the west near 1 mph (2 km/h).  A slow westward to west-northwestward motion is forecast during the next day or so, followed by a gradual turn toward the northwest and north.
On this track, the core of extremely dangerous Hurricane Dorian will continue to pound Grand Bahama Island through much of today and tonight.  The hurricane will move dangerously close to the Florida east coast tonight through Wednesday evening.
Maximum sustained winds are near 165 mph (270 km/h) with higher gusts.  Dorian is a category 5 hurricane on the Saffir-Simpson Hurricane Wind Scale.  Although gradual weakening is forecast, Dorian is expected to remain a powerful hurricane during the next couple of days.
Uncertainty remains in Dorian's forecast track for late this weekend into next week, so all interests in the Carolinas should continue to monitor this storm using trusted, official sources of information. The public can stay updated with the latest information on Dorian and find hurricane preparedness tips at https://www.nhc.noaa.gov/.
For more information on the local forecast, visit www.weather.gov/mhx for weather information, or the National Weather Service office in Newport / Morehead City's Facebook page at https://www.facebook.com/NWSMoreheadCity/.