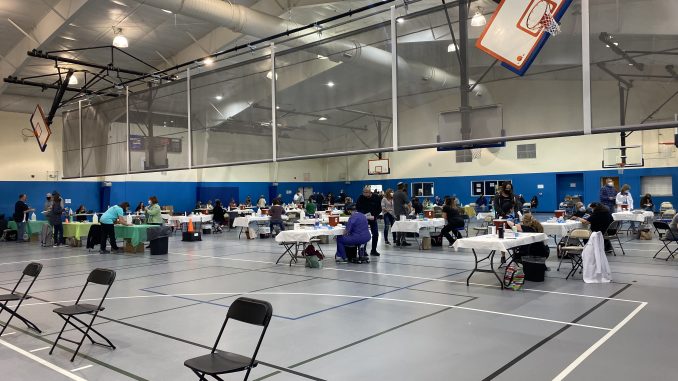 The latest data from the state shows Dare County has fully vaccinated the highest percentage of its residents against COVID-19 of any county in North Carolina.
Dare was at 25.5 percent of its population age 18 and older that has received all the necessary shots as of Monday's report from the N.C. Department of Health and Human Services. 30.9 percent were at least partially vaccinated, also best in North Carolina.
"To comfortably get on the other side of this pandemic we need to see between 70 and 80 percent of the population vaccinated. It is great to see Dare County leading the way towards this goal," said Dare County Health and Human Services Director Dr. Sheila Davies.
"Our team has been working diligently since December to secure and provide COVID vaccinations for our community," Davies said. "We pride ourselves in creating a safe, smooth and seamless process for individuals to register and receive their vaccinations. We are very pleased with the number of people getting vaccinated and hope this trend continues."
Hyde County was second in the state at 21.9 percent fully vaccinated. Tyrrell County was at 15.2 percent and Currituck 12.9 percent.
"Hyde County has held very robust COVID vaccination clinics, though we have not held mass events," said Hyde Health Director Luna Gibbs. "Our team, which has consisted of volunteers from multiple agencies, has worked hard and well together, and as such, I am pleased with our outcomes so far."
"Vaccine requests are waning now, so we are pushing to vaccinate anyone 18 years of age and older who desires the COVID-19 shot. We currently offer the Moderna vaccine," according to Gibbs.
Using per capita numbers, Dare County was also first, followed by Hyde, Orange, Chowan and Pasquotank counties. Tyrrell County was 24th and Currituck County 43rd.
The per capita rate of vaccinations uses a proportion of 10,000 residents to more fairly compare counties due to unequal populations.
Davies said a common question she has been fielding is how many of Dare's allocations of the COVID-19 vaccine has been going to those who live in Dare County.
"Based on the data we were able to pull from the state's COVID Vaccine Management System, 93.8 percent (17,065) of the vaccinations provided by our department (18,815) have going to individuals with a Dare County address," Davies said. "The second highest number (480) has gone to individuals with a Currituck County address."
The report from March 18 said that 474 shots from Dare's health department were administered to out-of-state residents. Tyrrell and Wake counties were next with 38 shots each, followed by Pasquotank at 34.
Vaccine appointments and availability
Dare County is currently taking appointments for all five priority groups at https://www.darenc.com/departments/health-human-services/coronavirus/covid-19-vaccine
Anyone age 18 and up from Hyde County, that would like to receive the COVID vaccine at the Hyde County Health Department in Swan Quarter should call 252-926-4467 for an appointment. You can also receive the vaccine at the Ocracoke Health Center by calling 252-489-3622. Gibbs said they are currently administering the Moderna vaccine.
Drive-thru vaccine clinics for first doses in Currituck County will be held Thursday from 1 to 4 p.m., while supplies last, at Currituck Community Park adjacent to the YMCA in Maple.
A second dose clinic for those who received their shot in Currituck will be Wednesday in Maple from 1 to 4 p.m.