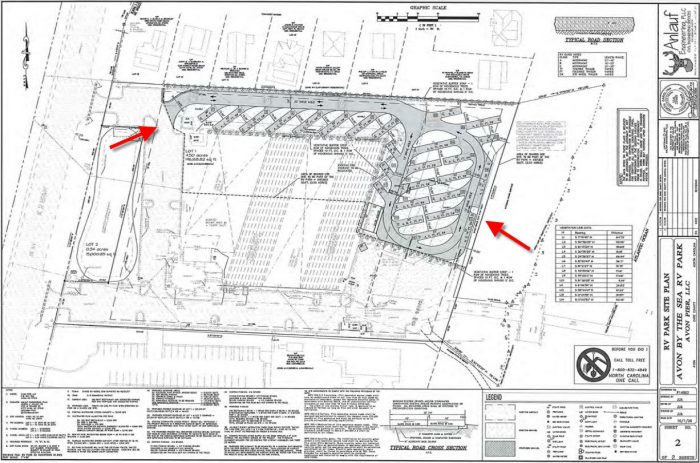 While hopes were high that the new oceanfront RV Park in Avon would be open in time for the summer season, the "Avon by the Sea RV Park" will not open to the public until the fall of 2021, per property owner and pier operator, Joe Thompson.
The delay is due to the limited availability of both contractors and materials to complete the park, which will soon be the first oceanfront RV Park on Hatteras Island located south of the Tri-villages.
"Between materials and contractors, we don't want to put a firm date out there and not meet those expectations, and I think we'll have a better estimate [for an opening date] later this summer," said Thompson. "The biggest issue has just been how busy all the contractors are. There's just a lot going on right now, and on top of that, we've had multiple delays getting materials here."
"We're not interested in throwing it together and just putting it out there," he added. "We want to make sure everything is done right in terms of construction, and we also want to make sure that all of our reservations systems are working perfectly… So we would rather have a later delivery date and have everything working smoothly, then throw it all together."
"This is a long-term, long-range project, and we want to make sure it's done right from the beginning."
The park will encompass at least two acres of the 4.85-acre property adjacent to the Avon Pier, and Thompson stated that they will be adding ample vegetation to provide a natural buffer between the individual sites, as well as between the park and the rest of the oceanfront area. (The oceanfront site in central Avon is also home to Pangea Tavern, the Koru Beach Klub, and the seasonal weekly farmer's market, in addition to the Avon Pier.)
While the RV Park will take up the northern side of the Avon Pier-adjacent property, (and approximately two-thirds of the current parking spaces along the oceanfront), parking for regular Avon Pier visitors will not be significantly impacted.
The RV Park will operate within the guidelines of the recently revised rules for travel trailer parks in Dare County, which were adopted in October of 2020, and each of the planned 26 sites will have 15' feet of separation.
The new RV park has the potential to fill an accommodations gap in Avon, as the village has both a motel and a soundside campground, (the Sands of Time Campground), but limited additional options for nightly stays. The Avon by the Sea RV Park will concentrate on attracting short-term visitors only, (with no long-term leases planned), and will be the first and only oceanfront RV park in Avon village.