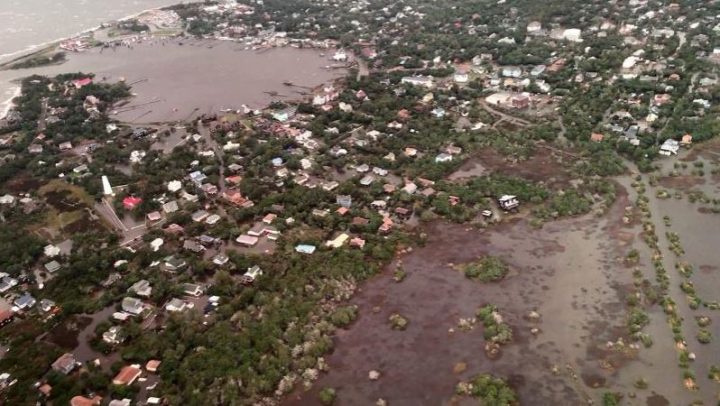 The global humanitarian organization Operation Blessing (OB) has granted $104,893 to the Ocracoke Interfaith Relief & Recovery Team (OIRRT), to be used for local reconstruction efforts on the North Carolina island.
OIRRT is a long-term recovery group established after Hurricane Dorian impacted Ocracoke Island on September 6, 2019. The storm surge was 7.5 feet, wreaking historic flooding and damaging or destroying 600 homes – leaving roughly 40% of residents displaced. Today, over half of the displaced residents have still not been able to return home.
Formed in October 2019, OIRRT is currently engaged in reconstruction projects, with funding through Hyde County and volunteer labor by Christian Aid Ministries. Operation Blessing provided the grant funds to help OIRRT continue this effort; $100,000 of the grant funds will be used towards reconstruction projects on homes and $4,893 will help build volunteer housing for those that come to serve.
"The Ocracoke Interfaith Relief & Recovery Team is incredibly grateful to announce that we have received a grant in the amount of $104,893 from Operation Blessing," said Alicia Peel, Administrative Assistant. "We are so excited for our partnership with Operation Blessing and cannot express our gratitude enough. Through this amazing gift, we will be able to help our community recover from Hurricane Dorian."
When Dorian struck, Operation Blessing sent its U.S. Disaster Relief team to Ocracoke Island and provided more than 200 hours of relief efforts and distributed over 40,000lbs of food, water, emergency supplies, as well as a quantity of flood relief kits.
"During our time on the island in 2019, the residents really captured our hearts. Today, Operation Blessing is thrilled to provide them with continued support through our partnership with Ocracoke Interfaith Relief & Recovery Team," said Anthony Lloyd, senior director of U.S. Disaster Relief for Operation Blessing.
For more information on OIRRT: https://www.oirrt.org/
About Operation Blessing
Operation Blessing (OB) provides humanitarian services such as strategic disaster relief, medical aid, hunger relief, clean water and community development. Founded in 1978, Operation Blessing has touched the lives of millions of people in more than 90 countries and every state. For more information about Operation Blessing, please visit www.ob.org.