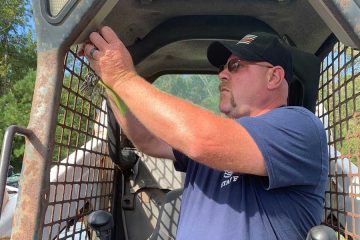 Steven Bailey killed working on 'Jug Handle' Bridge
The Occupational Safety and Health Administration (OSHA) has fined Flatiron Constructors Inc. $13,494 for what it calls a "serious violation" connected to the Aug. 24 death of Steven "Bull" Bailey while he was working for the company on the "Jug Handle" Bridge project in Rodanthe.
Flatiron spokesperson Mike Swenson declined to comment on the OSHA finding, writing in an email that, "Flatiron continues to work on the project under the contract with the Owner, the NCDOT.  We cannot provide comment on this matter and respectfully suggest you direct your inquiry to the Owner."
For his part, OSHA spokesperson Eric Lucero emailed the Voice that, "This case is currently in contest. We have nothing further to add at this time."
The OSHA finding, contained in a late November letter from Kimberley Morton, Director for the agency's Raleigh Area Office, said the agency's "inspection determined that the employer [Flatiron] did not ensure barriers were erected to prevent access to the swing radius of the Manitowoc 2250 Lattice Boom Crawler Crane, exposing employees to crushed-by and caught-in hazards."
Bailey, 42, was said to be killed when he was stuck by a counterweight on the crane while standing on a platform. A master mechanic, he was also a firefighter and board member of the Roanoke Island Volunteer Fire Department. Aside from his wife, Breynn, he also left three children.
In an interview with the Voice, Breynn Bailey said that the penalty proposed by OSHA "seems so minor. I wait for the OSHA findings and I think it's going to bring me some kind of peace or understanding — and it doesn't. To me, it doesn't seem to be enough."
The information provided by OSHA says that "violations are identified as serious if there is substantial probability that death or serious physical harm could result and that the employer knew, or should have known, of the hazard."
In 2017, Flatiron, which is headquartered in Broomfield, Colorado, was awarded a $145 million contract for its work on the "Jug Handle Bridge" project. The project is now slightly more than half complete, and the bridge opening is slated to occur at the end of 2021, having recently been pushed back from the fall.
Breynn Bailey told the Voice that as this point, she is waiting for OSHA to release its complete report of the accident — which will not occur until the resolution of the case against Flatiron —before deciding what, if anything, comes next.
"Our position right now is just waiting," she said. "I feel our hands are tied until OSHA settles [with Flatiron], and we can get their report."
She added one other thought in regard to the memory of her husband, saying: "I just want people to keep it fresh in their mind."