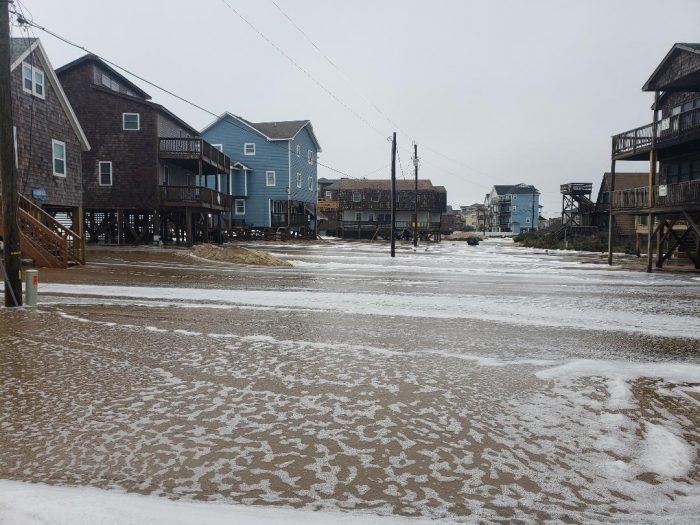 Another round of ocean overwash rapidly flooded N.C. Highway 12 and adjacent roadways in multiple locations with Monday morning's high tide at approximately 11:00 a.m.
Additional overwash was reported on N.C. Highway 12 in Avon near Ocean View Drive, in Rodanthe and Pea Island, in northern Buxton, and in northern Hatteras village.
NCDOT announced on Monday morning that N.C. Highway 12 is still closed between Rodanthe and Oregon Inlet as sections of the Outer Banks highway remain covered with sand and water due to the dune breaches and ocean overwash. N.C. Department of Transportation crews are assessing impacts and continuing to clear the road, but officials are not sure when it will be safe to reopen N.C. Highway 12 at this time.
Per a Monday morning update from the National Weather Service (NWS) Newport / Morehead City office, winds will continue to diminish through Monday, but minor coastal flooding will continue along portions of the Outer Banks. Additional overwash is possible with Monday night's high tide cycle, which is at approximately 11:30 p.m.
The low pressure system off the Mid-Atlantic coast will continue to move away from the Outer Banks and lose its influence on the weather along the coastline on Monday.
A High Surf Advisory remains in effect until 7 p.m. on Monday, and a Coastal Flood Advisory remains in effect until 2 p.m. on Monday.
For more information on the local forecast, visit www.weather.gov/mhx for weather information, or the National Weather Service office in Newport / Morehead City's Facebook page at https://www.facebook.com/NWSMoreheadCity/.