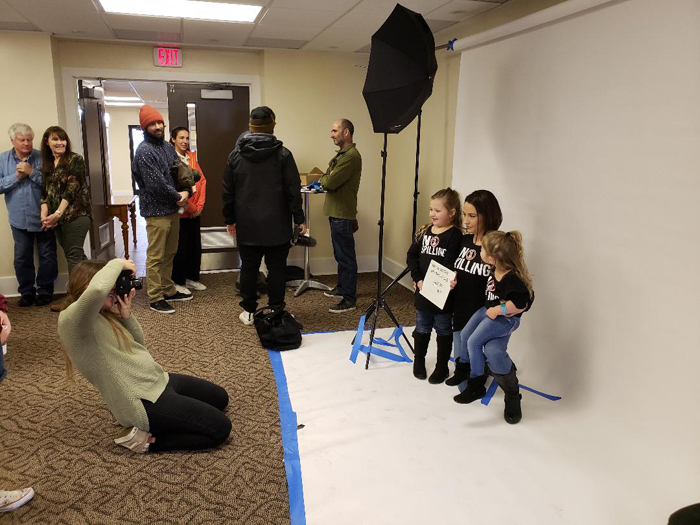 A photoshoot and presentation aimed at garnering more local voices for the fight against offshore drilling and seismic testing was held in Hatteras village on Tuesday night, attracting roughly 40 community members who posed for the camera.
The photoshoot is part of a years-long campaign orchestrated by Not the Answer NC, which showcases the faces of people along the local coastline whose jobs and lives would be affected if offshore drilling came to fruition.
The Hatteras event follows a February photoshoot that was held at the Outer Banks Brewing Station in Kill Devil Hills to reload the Not the Answer NC campaign with fresh faces, jobs and reasons.
"We held a similar event in February, and we were asked if it could be replicated in Hatteras," said Michael Flynn, Coastal Advocate at the North Carolina Coastal Federation, who then discussed the idea with Outer Banks Surfrider Foundation Co-Chair Matt Walker "We both thought this could be a good opportunity to get more representation from Hatteras Island on NotTheAnswer.com"
The first wave of photos from more than four years ago, (as well as the subsequent pics at the February Brewing Station photoshoot), were originally taken by local photographer Daniel Pullen. As Pullen was out of town during the Hatteras photoshoot, another local photographer – Jenni Koontz – stepped in for the Hatteras event to snap pictures of the attendees.
"I live here full time with my daughter, and my work revolves around a clean beach, said Koontz. "When they reached out and contacted me, I was more than happy to help."The photoshoot attracted both locals and visitors, which included a visiting film crew from Brazil who just happened to be on the island to shoot footage for one of the country's biggest sports television shows.
"We heard about the offshore drilling [issue] here, and we came to support the movement," said Nelson Neto of the three-person crew. "Hopefully, we can keep this area just the way it is."
As with previous photoshoots, participants jotted down their occupations and / or reasons for opposing offshore drilling and seismic testing on white boards before posing for the camera. In between the shoot, Michael Flynn, along with Matt Walker and Jayson Collier, shared a presentation on the current status of offshore drilling along the North Carolina coastline, and what could be expected if seismic testing proceeded.
In 2014 and 2015, five private companies applied to the U.S. Interior Department's Bureau of Ocean Energy Management, or BOEM, for permits to use air guns for seismic testing to search for oil and gas on the Atlantic Ocean floor. These companies also applied to the National Marine Fisheries Service NMFS for "incidental harassment authorizations" (IHAs) because their activities were expected to harass members of numerous marine mammal species.
NMFS granted the companies' applications for IHAs in November of 2018. In the days and weeks that followed, a lawsuit was filed in South Carolina by multiple environmental organizations that claimed that the National Marine Fisheries Service violated the Marine Mammal Protection Act, the Endangered Species Act and the National Environmental Policy Act when it issued Incidental Harassment Authorizations in late November. Attorneys generals from nine states, which includes North Carolina's Attorney General Josh Stein, signed on to the lawsuit, and a preliminary injunction was filed in February 2019 to block seismic surveys from beginning in the Atlantic Outer Continental Shelf until the separate lawsuit is resolved. As of mid-March, the issuance of an injunction was still in process of being debated in the court system.
Presentation speakers Walker and Flynn focused on both the environmental and economic impact to coastal regions if seismic testing were to proceed.
"There are no economic benefits with seismic testing at all for the state of North Carolina," said Walker, noting that any economic benefits would be reserved for the private companies alone.
"What we're trying to do is spread the information that there are more jobs and more revenue to be found in our tourism industry…"
"That's why we are asking people to put a human face on what we do," he added. "So when [proponents of offshore drilling] say 'we will bring you jobs,' we can say 'But we already have jobs.'"
Flynn focused on the local environmental impacts, noting that the five companies would conduct five separate seismic testing operations off the coast of North Carolina, potentially just a few miles offshore. He stated that seismic testing involves the use of airguns, which are towed behind ships and which shoot loud blasts of compressed air at up to 250 decibels through the water in order to search for oil and gas deposits. (As a comparison, an airplane takeoff typically has a decibel level of 140, while eardrum rupture can occur at a decibel level of 150.)
These airguns would make these intense pulses of sound every 10-60 seconds, 24 hours a day, for roughly 4-5 months at a time.
Flynn also noted that evidence has shown that the blasts are so loud and constant that they can injure or disturb vital behaviors in fish, dolphins, whales and sea turtles, and can destroy food sources, fish eggs, and larvae, which would be detrimental to the recreational and commercial fishing industries. A potential oil spill, he said, would also take years to resolve, and would destroy the local tourism industry based on similar oil spill events in the past.
Based on this data, Flynn and other representatives at the meeting attested that the best course of action at the moment was to reach out to government officials, and especially U.S. Senators Richard Burr and Thom Tillis, to encourage them to listen to these local voices.
"[Your] local politicians have been ridiculously supportive," said Flynn. "They are lockstep mad and angry when they've looked at the numbers and effects for themselves."
"What's next is that we need to contact our [North Carolina] representatives – we think that is our best near-term solution, and our best option right now."
To learn more about the photoshoot and the Not The Answer N.C. campaign, visit http://nottheanswernc.org/ or https://www.facebook.com/NottheAnswerNC/.