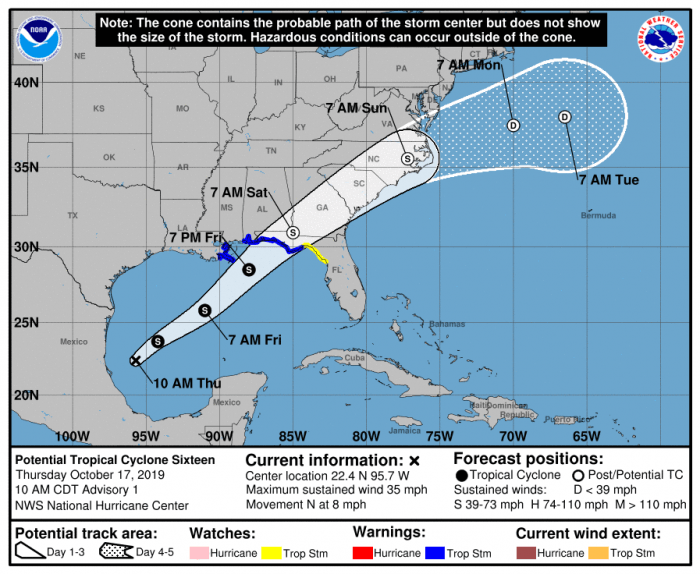 The National Hurricane Center is monitoring a system in the Gulf of Mexico that could develop into a tropical or subtropical cyclone during the next day or two, per a Thursday update from the National Weather Service Newport / Morehead City Office.
The system is expected to cut across Eastern North Carolina this weekend, bringing the potential for heavy rainfall, dangerous marine conditions, and potential coastal flooding along the Outer Banks.
The system, which is currently known as Potential Tropical Cyclone (PTC) #16, is forecast to bring 2-4 inches of rain to inland N.C. with gale-force winds over the coastal waters. The highest impacts from PTC #16 along the North Carolina coastline are expected Saturday night through Sunday.
There is still uncertainty in the details of this system, and the potential impacts will depend on the strength and eventual track of the storm. Wind and coastal flooding hazards along the East Coast will be covered by non-tropical storm watches and warnings issued by the NWS office, since the system is expected to lose any tropical characteristics as it moves inland from the Gulf Coast.
For more information on the local forecast and the potential impacts of PTC #16, visit www.weather.gov/mhx for weather information, or the National Weather Service office in Newport / Morehead City's Facebook page at https://www.facebook.com/NWSMoreheadCity/.