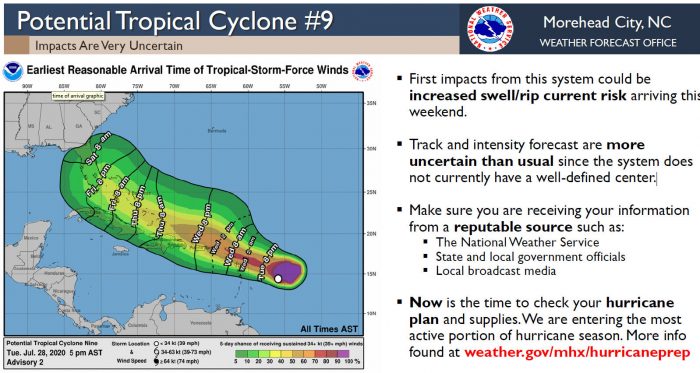 The National Hurricane Center is now issuing advisories on Potential Tropical Cyclone #9, which has a 90% chance of becoming Tropical Storm or Hurricane Isaias, (pronounced ees-ah-EE-ahs), within the next 48 hours, per a Tuesday evening update from the National Weather Service (NWS) Newport / Morehead City Office.
While the track and intensity forecast remains very uncertain, the Outer Banks area could at least receive impacts in the form of increased surf and heightened rip current risks beginning this weekend.
Per the NWS, the track and intensity forecast for this storm is more uncertain than usual, since the system does not currently have a well-defined center.
Regardless, the NWS advises that now is a good time for Outer Banks residents to check their hurricane plans, and guidance can be found at weather.gov/mhx/hurricaneprep.
In a 5:00 p.m. update from the National Hurricane Center, Tropical Cyclone Nine was located about 435 miles east-southeast of the Leeward Islands, with maximum sustained winds of 40 mph, and the system was moving west-northwest at 23 mph.
The Island Free Press will continue to post updates as soon as they become available. For more information on the local forecast, visit www.weather.gov/mhx for weather information, or the National Weather Service office in Newport / Morehead City's Facebook page at https://www.facebook.com/NWSMoreheadCity/.