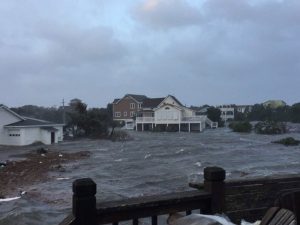 Homeowners insurance rates along the Outer Banks and throughout northeastern North Carolina could increase another 25 percent next summer under a proposal submitted by the industry to state regulators, while local and statewide groups are calling the request out-of-line.
The state will host a public comment forum on Thursday, both in-person at the state Capitol as well as an online platform.
The request by the North Carolina Rate Bureau was announced exactly one week after state Insurance Commissioner Mike Causey won a second term over former commissioner Wayne Goodwin.
Causey, a Republican, said last month the North Carolina Rate Bureau asked for a statewide average increase of 24.5 percent to take effect August 2021.
The rate bureau is not part of the N.C. Department of Insurance, but represents companies that write insurance policies in the state.
According to the Outer Banks Association of Realtors, annual rates from Carova to Ocracoke were set at $2,617 in May. The new request would increase that rate to $3,308. The filing also includes condos, tenants, and wind-only policies.
OBAR put out a call-to-action Wednesday afternoon, asking homeowners to make their voices heard.
"The proposed rate increases are excessive, unwarranted and unjustified," according to the OBAR statement. "The increase in the homeowners insurance rate affects year-round resident policyholders, wind only policyholders, condo, and renter policyholders."
"The unwarranted increased cost of homeowners' insurance impacts the affordability of housing and the ability of a policyholder to make their mortgage payments," the group said. "This impacts families that live in our year-round neighborhoods and will be especially burdensome due to COVID-19 impacts on our communities."
"(The rate bureau) is overstating the scope and growth rate of the North Carolina Insurance Underwriters Association's liabilities and mischaracterizing the potential of a deficit event in order to pass off their proposed rate increase as public service," OBAR stated.
The NCIUA administers what is commonly known as the "Beach Plan", which in most cases is the only source of wind and hail policies for coastal homeowners.
The N.C. Homeowners Alliance, which is funded in part by the N.C. Association of Realtors, said nearly 90,000 North Carolinians are struggling with house payments already, and that asking for an insurance rate hike now is out-of-line.
"In the middle of a global pandemic and economic downturn, North Carolina's insurance companies are trying to take $4.6 billion from homeowners," the organization posted on their website.
All but two of the state's insurance territories would increase by 25 percent, including territory 110 (Currituck, Dare and Hyde beaches); 130 (Currituck, Dare, Hyde mainland); 150 (Beaufort, Camden, Chowan, Pasquotank, Perquimans, Tyrell, Washington); 170 (Gates, Hertford) and 180 (Bertie).
Parts of counties in southeastern North Carolina would only be hit with a 15 percent hike, while four counties in the far southwest corner of the state would see a 23 percent increase.
Causey said one of the driving factors behind the request is that North Carolina has experienced increased wind and hail losses stemming from damaging storms.
More from the Outer Banks Association of Realtors:
NCRB claims higher rates must be established to protect North Carolinians because "the inadequacy of the rates at the beach and coast will lead to…catastrophe recover charges on all property insurance policyholders throughout the state".
"The prospect of a Beach Plan assessment affects the willingness of a company to write in North Carolina" because "it will be subject to Beach Plan assessments for huge losses." In reality, the exhaustion probability of NCIUA's final reinsurance layer before a catastrophe recovery charge is 0.0010%, based on "the largest amount of modeled annual hurricane losses after blending 100,000 years of AIR and RMS modeled losses".
From 2013 through 2019 the Beach Plan collected approximately $2.6 billion in premiums earned and incurred $1.6 billion in losses with $515 million in surplus at the end of 2019, according to OBAR.
The NCRB claims "the prospect of a Beach Plan assessment affects the willingness of a company to write in North Carolina" because "it will be subject to Beach Plan Assessments for huge losses" due to NCIUA's overexposure to coastal hurricane risk.

In reality, the majority of NCIUA's total residential liability is for inland wind coverage less susceptible to hurricane risk than beach wind policies, which account only for about $8 billion of the total residential liability.
Goodwin, the current chairman of the N.C. Democratic Party who served as insurance commissioner from 2009 to 2017, posted a tweet just ahead of the election warning that an announcement about rate hike request was being withheld until after the election.
BREAKING: Knowledgeable NCDOI insiders say Republican Mike Causey encouraged homeowners insurance companies to hold off on filing for massive @NC_Homeowners increases until *after* the election. If true, then proof we need #transparency & to stop the games of #RateHikeMike #ncpol pic.twitter.com/MndNq2hmrQ

— Wayne Goodwin (@WayneGoodwinNC) November 3, 2020
Other than a news release about the request on the N.C. Department of Insurance website and emailing it to media outlets around the state, the department did not shared the announcement on any of its social media pages.
The last request by insurance companies was for 17.4 percent in December 2018, which was eventually negotiated down to four percent and instituted this past spring.
The state and insurance companies can either agree with the rates as filed or negotiate a settlement on a lower rate. If a settlement cannot be reached within 50 days, the commissioner will call for a hearing.
A public comment period is required by law to give the public time to address the Rate Bureau's proposed rate increase.  There are four ways to provide comments:
A public comment forum will be held to listen to public input on the Rate Bureau's rate increase request at the N.C. Department of Insurance's Second Floor Hearing room on Dec. 10 from 10 a.m. to 3 p.m.  The Department of Insurance is located in the Albemarle Building, 325 N. Salisbury St., Raleigh, N.C. 27603. Proper COVID-19 safety protocols will be enforced.
A virtual public comment forum will be held simultaneously with the in-person forum on Dec. 10 from 10 a.m. to 3 p.m.  The link to this virtual forum will be: https://ncgov.webex.com/ncgov/j.php?MTID=m28717b65acc9281b45e4c7bd66151e39
Emailed public comments should be sent by Dec. 10 to: 2020Homeowners@ncdoi.gov.
Written public comments should be mailed to Abby Spann, Paralegal III, to be received by Dec. 10 and addressed to 1201 Mail Service Center, Raleigh, N.C. 27699-1201.
All public comments will be shared with the N.C. Rate Bureau.