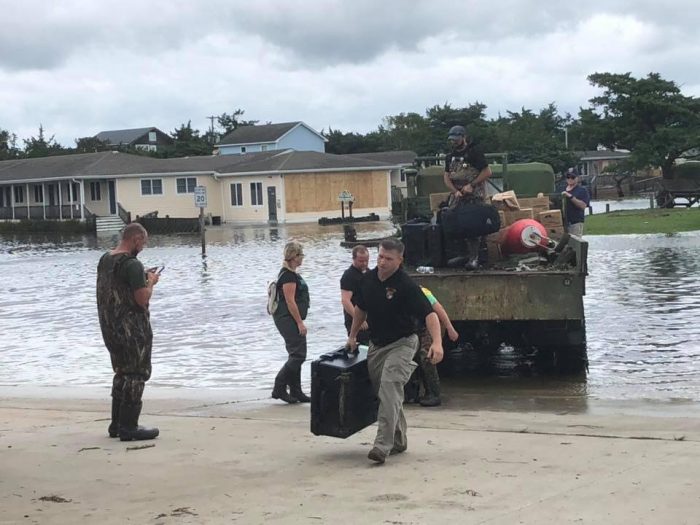 With Hurricane Dorian now 160 miles southeast of Nantucket, Massachusetts, recovery and clean-up efforts have begun in earnest across Hatteras and Ocracoke islands.
Damage, including water inside homes and businesses, downed trees, and downed power lines, was reported throughout the islands, and particularly in Avon and all villages south.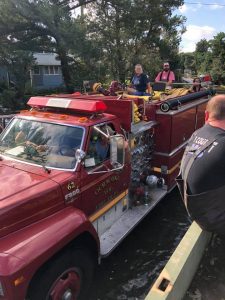 On Ocracoke Island, water has started to drain off the island and the cleanup and assessment has begun, Per the Hyde County Sheriff's office, SAR teams along with deputies and the Ocracoke VFD are going door to door checking on residents and offering water and MREs to residents who stayed home.
Crews from all over the state are on the island and providing much-needed help on the ground. Helicopters have continued to bring supplies and personnel to the island for the teams on the ground to disperse or use as needed.
Per a Saturday morning update from the Cape Hatteras Electric Cooperative (CHEC), restoration efforts for power on Hatteras Island resumed early this morning. An additional 27-man crew from Lee Electrical Construction, Inc. has also arrived, and crews will be working in all villages today. Power was restored to some areas of Buxton on Friday night.
The mandatory evacuation for Dare County remains in place due to hazardous conditions, including downed power lines and trees, impassable roadways and widespread power outages. Access into Dare County will remain restricted until preliminary assessments are completed to determine that conditions are safe.
The Dare County Control Group will meet Saturday morning to review assessments and determine reentry procedures. A staged reentry process will be used to facilitate a safe and orderly return.
Once reentry procedures are set, the information will be distributed via the county's emergency alert system. Sign up to receive alerts via text, voice and email at  www.darenc.com/alerts or visit https://www.darenc.com/departments/emergency-management/hurricane-dorian.
Some sand and standing water remained on N.C. Highway 12 as of Saturday morning, although some sections of the roadway – particularly those north of Avon – were passable. N.C. Highway 12 on Ocracoke Island had severe damage in at least two 500 ft. sections, and NCDOT announced that repairs for the damage will take a long time.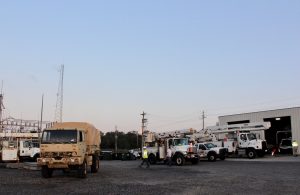 The Outer Banks Community Foundation (OBCF) is now accepting donations for a Disaster Relief Fund to support Hurricane Dorian relief and recovery efforts. www.obcf.org/disaster
"While we and our partners are still assessing the damage, we invite your donations now to enable nonprofit organizations in Dare County and Ocracoke to respond *immediately* to help hurricane victims," said OBCF in an online statement. "…All gifts are tax-deductible, and every penny of every donation will be used to directly assist individuals and families in need. You may designate your gift for Dare County, Ocracoke, or both."
Folks who want to donate funds towards recovery efforts can also contact the Cape Hatteras United Methodist Men, which is a local organization that has been assisting members of the community for 40 years.
Checks can be mailed to:
Cape Hatteras United Methodist Men
PO Box 1591, Buxton, N.C. 27920
Checks should be marked "Hurricane Dorian Relief" and receipts will be sent. 100% of donations are used to address the needs of islanders.
The Island Free Press will continue to post updates on recovery efforts, resources for islanders, and organizations accepting donations for Hurricane Dorian relief as soon as they become available