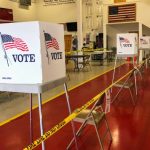 Dare County posted results for all 16 precincts at 11:20 p.m. on Election Night, confirming that five contested races on the Dare County Board of Commissioners and the Dare County Board of Education had been won by the GOP.
80.06% of registered voters cast a ballot in Dare County for the 2020 General Election, (or 24,119 out of 30,128 total registered voters), and the results for the county are below.
District 1 North Carolina State Senate:
In Dare County, Incumbent first-term Republican Bob Steinburg of Edenton defeated Dare County Democratic challenger Tess Judge by 12,492 votes to 10,722 votes, or 53.81% to 46.19%.
This mirrored the district results which also favored Bob Steinburg, who defeated Tess Judge by 57,913 votes to 46,862 votes, or 55.27% to 44.73%.
District 6 North Carolina House of Representatives:
In Dare County, first-term Republican Bobby Hanig of Powells Point defeated Southern Shores Democrat Tommy Fulcher, by 13,367 votes to 9.391 votes, or 58.74% to 41.26%.
For the four-county district, Bobby Hanig won by a slightly larger margin with 30,843 votes to 17.071 votes, or 64.37% to 35.63%.
District 2 Dare County Commissioner:
Incumbent Republican and current Chair Bob Woodard defeated Democratic challenger Amanda Hooper Walters by 13,765 votes to 9,065 votes, or 60.29% to 39.71%.
District 3 Dare County Commissioner:
Incumbent Republican Steve House defeated Democratic challenger Kathy McCullough-Testa by 13,483 votes to 9,129 votes, or 59.63% to 40.37%.
Dare County Board of Education:
Incumbent Republican David Twiddy defeated Democratic challenger Charles Parker by 14,070 votes to 8,545 votes, or 62.22% to 37.78%.
In the District 2 race for an open seat, Republican Susan Bothwell defeated Democrat Jen Alexander by 12,532 votes to 9,974 votes, or 51.93% to 48.07%.
Republican challenger Carl Woody II defeated Democratic incumbent Bea Basnight, the board's chairperson, by 11,836 votes to 10,956 votes, or 51.93% to 48.07%.
Federal and Statewide Races in Dare County:
In the race for the 3rd U.S. Congressional District seat, Republican incumbent Greg Murphy won by a 59.81% to 38.96% margin in Dare County. The U.S. Senate race between Republican incumbent Thom Tillis and Democratic challenger Cal Cunningham showed Tillis with about a 2%t lead statewide, but in Dare County, he won by a 57% to 38.96% margin.
Democratic incumbent Governor Roy Cooper appears to have won re-election by about a 52%-47% margin over Republican challenger Dan Forest on a state level, but Forest defeated Cooper in Dare County by 55%-44%.
President Donald Trump also took Dare County with 13,844 votes to 9,855 votes, or 57.56% to 40.98%.
For all North Carolina results, including local contests and statewide results, visit the N.C. Board of Elections website at https://er.ncsbe.gov/.