Reunited! Wedding band found on the beach returned to owner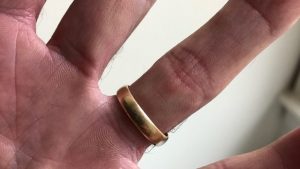 (Reprinted from OBX Today)
A gold wedding band found in the sand on Hatteras Island back in 2019 is now back on the finger of its owner.
Kathie Menuet discovered the ring Friday, Nov. 1, 2019, between Ramp 43 and The Point out surf fishing with her husband Robert on their last day of vacation. Menuet had gone back to the truck to warm up for a bit, and when she got out to grab her fishing rod, she noticed the ring sitting on the sand.
The Fauquier County, Virginia couple tried to find the ring's owner through social media, local realtors and leaving word at fishing tackle shops around Hatteras Island, to no avail. Then they decided to reach out to OBXToday.com with the story, which got picked up by the editor at the Island Free Press on Hatteras. And that's where Allan Page of Rocky Mount saw the tale of the long-lost ring.
Page owns a place in Buxton and had been down the last week of October 2019. The last time he remembers his ring on his finger was while cleaning fish at his beach house.
Page, who has been married 37 years, got in touch with the Menuets, sending along a photo of his wife's ring with the same maker's mark. He also explained a repair mark to the band — he had to have the ring cut off his finger after a bee sting.
The Menuets mailed the ring back to Page this week, and it's back on his finger where it belongs.
OBXToday received more than a dozen emails and messages about lost wedding bands after publishing the original story. Rings lost in the surf, while fishing, out on boats, you name it. One email came from a woman whose husband lost his wedding band back in the 1960s on the Outer Banks. Though her husband has passed away, she still holds hope the ring will turn up someday.
"You never know," she said.