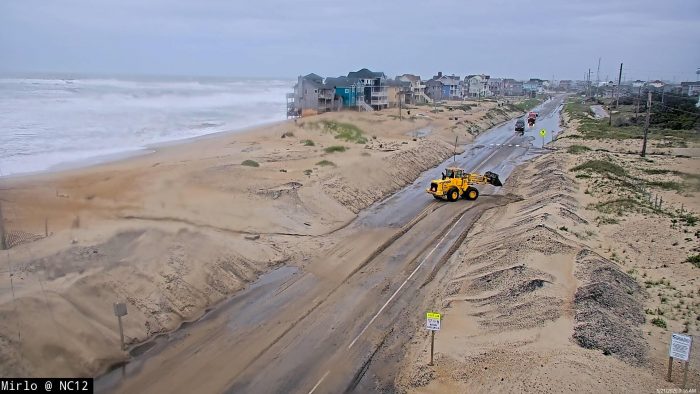 Ocean overwash remained on N.C. Highway 12 as of Thursday morning in the Mirlo Beach area of northern Rodanthe and in northern Buxton, however, the highway remained passable throughout Hatteras Island as of 8 a.m. There are patches of standing saltwater and sand on the roadway, and travelers who have to drive through the area are advised to use caution, and to drive slowly, as saltwater can damage vehicles.
Per an update from the North Carolina Department of Transportation (NCDOT), there are no breaches of protective dunes and no damage to the road itself. Crews will continue working on clearing sand and debris as needed through Thursday.
Rough surf and a high risk of rip currents will continue on Thursday for the Outer Banks, and will extend into Friday. Additional overwash and beach erosion is possible, especially during the next several high tide cycles. The next high tide is approximately 8 p.m. on Thursday.
Strong easterly winds and dangerous seas in excess of 10 feet will continue through Thursday, and will produce a dangerous shore break of 6-9 feet along the N.C. coast, especially north of Cape Lookout. A Coastal Flood Advisory remains in effect until 11 p.m. on Thursday and a High Surf Advisory is in effect until 9 a.m. on Friday
An additional 2 to 4 inches of rain, (with locally higher amounts), is forecast for the remainder of the week. This rainfall, on top of already saturated soils from Tropical Storm Arthur, could also result in flash flooding and flooding of poor drainage areas.
For more information on the local forecast, visit www.weather.gov/mhx for weather information, or the National Weather Service office in Newport / Morehead City's Facebook page at https://www.facebook.com/NWSMoreheadCity/.