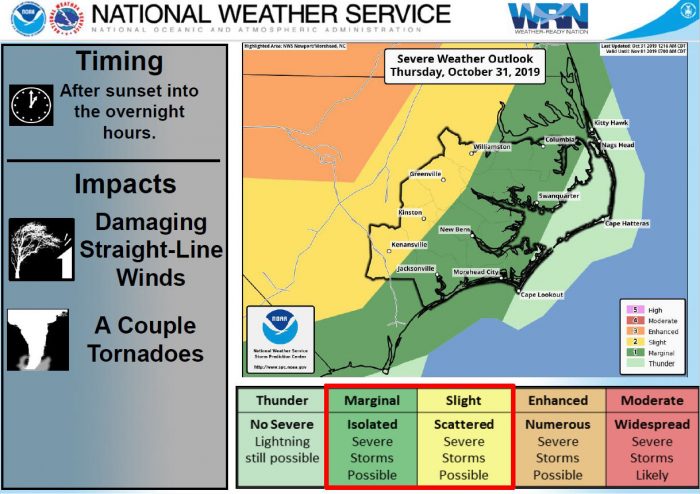 Severe thunderstorms are possible for the Outer Banks on Halloween night as a quick-moving cold front approaches Eastern N.C., per a Thursday morning update from the National Weather Service Newport / Morehead City Office.
The storms themselves will be quick-hitting and are more likely in the inland portions of eastern North Carolina. Widespread severe weather is not expected, however a broken squall line with damaging winds and an isolated tornado threat is possible.
The NWS advises that residents and visitors have multiple ways to receive tornado warnings as needed, which includes the NWS website at www.weather.gov/mhx, broadcast media, NOAA Weather Radio, and / or access to a cell phone and social media. (The NWS also automatically tweets out warnings via their Twitter page at www.twitter.com/nwsmoreheadcity.)
For more information on the local forecast, visit www.weather.gov/mhx for weather information, or the National Weather Service office in Newport / Morehead City's Facebook page at https://www.facebook.com/NWSMoreheadCity/.