Plans are in the Works to Replace Slash Creek Bridge in Hatteras Village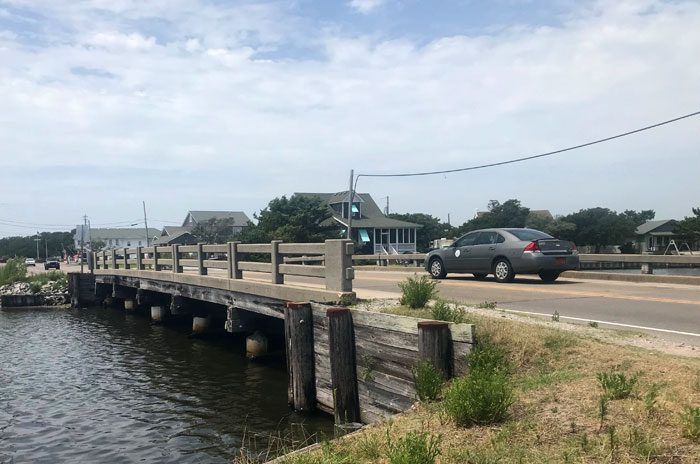 Per a recent letter that was mailed to Hatteras village residents by the North Carolina Department of Transportation (NCDOT), the bridge on N.C. Highway 12 over Slash Creek is scheduled to be replaced during a roughly year-long project.
Though the letter mailed to residents listed a potential September 2020 starting date, NCDOT officials confirmed that the project is currently slated to begin in October of 2022, although this could change in the months ahead.
Regular maintenance and repairs currently maintain the existing bridge in Hatteras village, however, the bridge – which was originally built in 1956 – is still in need of replacement at some point in the future due to structural deficiencies.
"Structurally deficient bridges are safe… However, they have components in poor condition due to deterioration," stated NCDOT Public Relations Officer Tim Hass. "They require significant maintenance to remain in service and might require limits on vehicle weights. To fully address the issues on a structurally deficient bridge, extensive rehabilitation or replacement is usually required."
The proposed replacement bridge will include two 15-foot lanes and 5-foot sidewalks on each side, and the project will require a short detour along Eagle Pass Road, which bypasses N.C. Highway 12 and runs parallel to the highway for .75 miles.
The project was originally included in the State Transportation Improvement Program (STIP) in 2013 and was partially funded for preliminary engineering in 2015.
Hass also noted that the engineers behind the project will work with the committee orchestrating the new Hatteras village multi-use pathway to ensure any committee recommendations that may tie-in with the bridge replacement project are considered. "We have worked with the committee in the past and will continue to do so," he stated.
Construction on the Hatteras village multi-use pathway may start as early as 2020, depending on whether funding is secured.