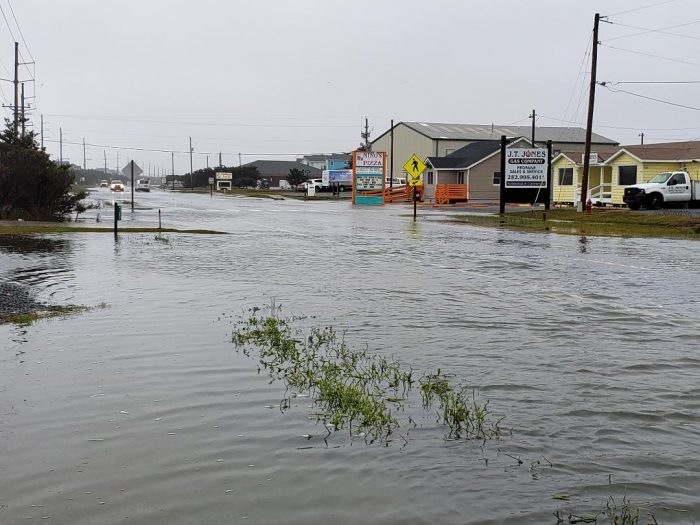 On Monday morning, standing water and sand remained on portions of N.C. Highway 12 that were affected by ocean overwash with this weekend's nor'easter. Saltwater and / or sand was reported in Avon from the Avon Pier to the southern end of the village, in northern Buxton, and in north Rodanthe and Mirlo Beach.
Per a Monday morning update from the National Weather Service (NWS) Newport / Morehead City office, the threat for minor coastal flooding continues today along the Outer Banks, and additional overwash is possible with Monday's high tide cycles. The next high tide is between 11:00 a.m. and 12 p.m.
Water levels on the soundside of Hatteras and Ocracoke Islands have come down a bit this morning, but minor soundside flooding is still possible through early afternoon.
The low pressure system off the Mid-Atlantic coast will continue to move away from the Outer Banks region and lose its influence on the weather for eastern N.C. today
N.C. 12 was still closed from Rodanthe to Oregon Inlet on Monday morning, and state transportation officials will reassess road conditions today and begin clearing efforts and any possible repair work required to reopen the road.
Limited visibility, severe ocean overwash and wind-blown sand prompted the N.C. Department of Transportation to close the road between Oregon Inlet and Rodanthe at 5 p.m. Saturday and keep it closed until at least Monday.
Significant oceanside flooding was also reported on N.C. Highway 12 with multiple breaches along the dune line on Ocracoke Island.
Due to inclement weather conditions, Cape Hatteras Elementary School and Cape Hatteras Secondary School are closed for staff and students on Monday. All other DCS schools will operate on a regular schedule.
A High Surf Advisory remains in effect until 7 p.m. on Monday, and a Coastal Flood Advisory remains in effect until 2 p.m. on Monday.
For more information on the local forecast, visit www.weather.gov/mhx for weather information, or the National Weather Service office in Newport / Morehead City's Facebook page at https://www.facebook.com/NWSMoreheadCity/.
The Island Free Press will continue to post updates as soon as they become available.