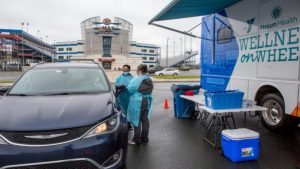 After rolling out with only one specific COVID-19 testing site listed in northeastern North Carolina last week and none on the Outer Banks, the N.C. Department of Health and Human Services website now has a more thorough listing of local locations.
Dare County Health and Human Services Director Sheila Davies said Thursday they were working on a local initiative to provide a drive-thru testing site on the Outer Banks, and hoped to have more details this week.
Hospital emergency rooms and primary healthcare providers in the region have been able to provide tests for those who meet qualifying criteria.
Other parts of the state have large chain stores partnering with the federal government on setting up drive-thru testing.
The closest major retailer in North Carolina to have a mass testing site is a Walmart in Greenville, and there are some reportedly in the Hampton Roads area.
The state advises that those who are seeking a test for the coronavirus to call your health care provider or local health department to determine if you need to be tested. Many health care providers test patients at their offices, but not all do. Some require an appointment and/or a referral from a health care provider.
List of testing sites in the OBX Today/JAM Media Solutions coverage area (subject to change):
Dare County
Beach Medical Care, 4917 S. Croatan Hwy, Unit 1B, Nags Head
The Outer Banks Hospital Urgent Care Center – Kitty Hawk, 5112 N. Croatan Hwy.
The Outer Banks Hospital Urgent Care Center & Family Medicine, 4923 South Croatan Hwy., Nags Head
Surf Pediatrics and Medicine (testing current patients only), 400 S. Croatan Hwy., Kill Devil Hills
Currituck County
Currituck Co. Health Dept., 2795 Caratoke Hwy, Currituck
Hyde County
Hyde County Health Department, 1151 Main St., Swan Quarter
Ocracoke Health Center, 305 Back Rd., Ocracoke
Engelhard Medical Center, 33270 US-264, Engelhard
Beaufort County
Vidant Internal Medicine – Washington, 1380 Cowell Farm Rd.
Vidant Multi-specialty Clinic – Belhaven, 598 West Old County Rd.
Vidant Family Medicine – Aurora, 151 3rd St.
Agape Health Services – Washington, 120 W. Martin Luther King Jr.
Bertie County
Bertie Health Dept., 102 Rhodes Avenue, Windsor
Camden County
Camden Co. Health Dept., 160 US 158, Bldg B, Camden
Chowan County
Chowan Co. Health Dept., 202 W. Hicks Street, Edenton
Hertford County
Hertford Co. Health Dept., 828 S Academy Street, Ahoskie
Pasquotank County
Pasquotank Co. Health Dept., 711 Roanoke Avenue, Elizabeth City
Perquimans County
Perquimans Co. Health Dept., 103 ARPDC Street, Hertford
Tyrrell County
Tyrrell Co. Health Center, 208 Bridge Street, Columbia
Washington County
Washington Co. Health Center, 198 US Hwy 45 North, Plymouth
Statewide