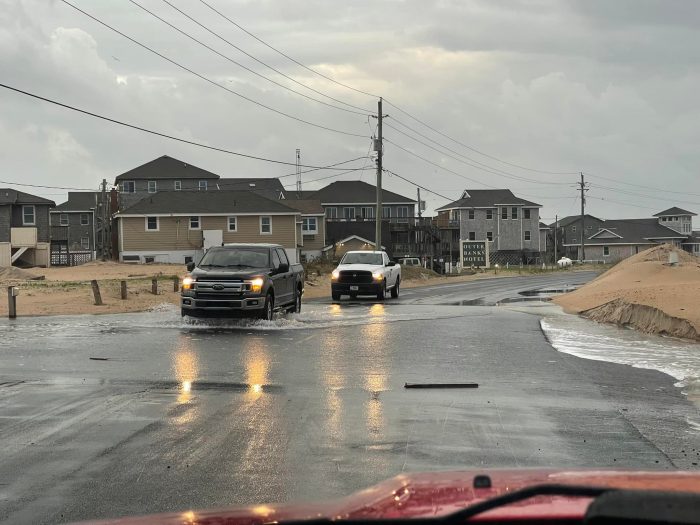 A Storm Warning, High Wind Warning, Coastal Flood Advisory, and High Surf Advisory are in effect for the Outer Banks on Monday as a coastal low pressure system is expected to impact the area with possible ocean overwash and soundside flooding, per a recent briefing from the National Weather Service Newport/Morehead City Office.
Minor ocean overwash was reported on N.C. Highway 12 in northern Buxton with Monday morning's 7:30 a.m. high tide, however, the roadway remains passable throughout, per an update from the North Carolina Department of Transportation (NCDOT). Flooding was not reported as of 8:30 a.m. at other hot spots along the island, including northern Hatteras, Avon, and Pea Island.
"Our first storm system of 2022 is producing heavy rain and strong winds along NC12, but the road is open and accessible," stated the 8:00 a.m. update from NCDOT. "Please drive with extreme caution as there are several areas of blown sand and standing water on the highway."
Dare County Schools will have an early release on Monday, and soundside routes from Ocracoke Island to the mainland have been suspended as of Monday morning due to the inclement weather.
Minor ocean overwash from Cape Hatteras to Duck is forecast for Monday and Tuesday, and N.C. Highway 12 may be impacted. Dangerous surf is also expected, with offshore wave heights of 10-20 feet.
Soundside coastal flooding is also a concern, with minor to moderate water level rises of 1-3 feet above ground level possible, and especially for areas near the Pamlico Sound.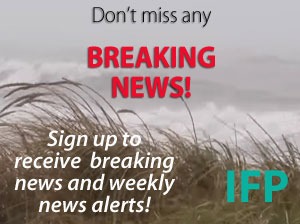 Strong gusty winds up to 50-60 mph are also forecast for Monday and Monday evening as the back side of the storm passes through the Outer Banks, as well as 1-1.5 inches of rainfall throughout the storm.
Isolated strong to severe thunderstorms are also a possibility for Monday morning, and localized flooding due to heavy rain could impact low-lying areas. A Tornado Watch is in effect until 11:00 a.m. on Monday.
For more information on the local forecast, visit www.weather.gov/mhx for weather information, or the National Weather Service office in Newport / Morehead City's Facebook page at https://www.facebook.com/NWSMoreheadCity/.
A Tornado Watch is also in effect for the Outer Banks until 11:00 a.m. on Monday.